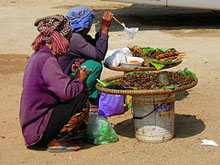 Let me guess, when it comes to your small business, you hate selling.
Just the idea of it makes your stomach turn a bit. It seems dishonest and dirty. And you've convinced yourself that it's pretty much unnecessary to sell. Somehow you can get more clients and customers without having to deal with all that selling stuff.
But how? How do you encourage more clients and customers to buy your products and services without selling to them? How can you grow your practice, increase your revenue and grow your small business and be apprehensive to selling what you produce and offer in your small business?
Perhaps you don't have to be apprehensive to selling. After all, you're selling all the time.
That's right. You're selling all the time. As a matter of fact selling is second nature to you. How do I know this? Because you're a person. You're a person with ideas, thoughts and opinions. And this is what you sell all the time without even realizing it.
Think about it. Why do you share your knowledge? Why do you offer your opinions? Isn't it because you have something to share or add to a situation or conversation? And when you do so you're selling. You're selling your ideas, your opinions, your perspectives. And you're doing it all the time. I'm doing it right now.
So if that's the case, why do you think it's so easy to sell your ideas in a conversation while it's difficult to sell your offerings to your prospects?
I think it has to do with money. Often, when you're engaged in a conversation and you're sharing your perspective on a topic there's no money involved. Now there may be other currencies such as what people think of you, but something changes when money is involved. Why do you think that is?
So do you think selling would be easier if money wasn't a part of it?
If so, I say, then, don't make it a part of how you engage with your prospects. Make the conversations about them – their problems and how you can help them solve them. Make money the just part of the agreement if they're a good fit for you.
In other words, take the pressure off to feel as though you need to justify what you charge for your offer. The price only really matters if you've illustrated to them that your products and services can help them. Otherwise, price is moot.
Don't you think?
How do you feel about selling in your business? What have you done to overcome it?
And what else do you think stops the natural flow of selling other than money?
I'd love to hear about it.
(note: image from Lorna87 on Flickr, 

some rights reserved)