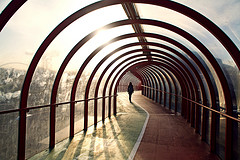 If you're running a business you've undoubtedly faced difficult times. Your plans fall through, launches go less than expected, and clients take more of your time then you'd like. The list goes on, right?
It's just the nature of creating something – specifically creating something that involves other people. And if you're selling anything – ad space, products, services, etc – you're creating something for other people.
So when you find out you're marketing isn't working like you thought or that your great idea isn't seen as such a great idea by the people in your market – what do you do?
When the sales slow down and the bills aren't getting paid – what do you do?
And on those days that you have no motivation, no real desire to grind away at making your business work – what do you?
In other words, what keeps you going?
For me, personally, it's my vision. Certainly it's the goals I want to achieve, that's part of it. But it's not all of it.
What keeps me going is wanting to live the lifestyle I want – to have a flexible schedule and to be able to work from the hotel while my family is enjoying the beach. Or the ability to work a 3 day work week (3 long days, mind you). Or the opportunity to work at night in the summer so that I can spend the days with my wife and kids. Or taking 4 day weekends to go camping. Or taking a day off so my wife can rest when she's sick. And the list goes on. For me, as I said, I want flexibility – having the flexibility in my schedule and my location that allows me to do more of what I want when I want.
But I don't just want to talk about my lifestyle or dream about it – I want to actually live it. And living it means actually taking the time when it's available. It means being active and spending gobs of time with my kids. Ultimately it means balancing work with life.
You see, I don't want a life where I'm bogged down by my work. If I did, I could go out and work for any corporation, put in less effort and allow someone else to dictate my lifestyle. Sure, I want – and do – make a nice living. But I don't want my pursuit of money to become more important than what's most important to me – quality time with my family, hiking, my spiritual practice, etc. All these things I put above making money.
BUT, I still focus on making money – as a means to the ends I wish to live by. So I work in my business to make money solely so I can have the lifestyle I want. And that's what keeps me going on the days when it's just not so easy or comfortable to work for myself.
So that's me. How about you, what keeps you going when it's less than easy?
(note:  image from  Potatojunkie on  Flickr,  

some rights reserved)