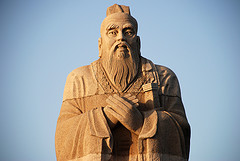 I love philosophy. I think it's because I love to contemplate the nature of things. And that's what philosophy is ultimately about – studying the fundamental nature of knowledge, reality and existence.
Studying philosophy makes you think. It opens and expands your mind to all sorts of different, sometimes penetrating ideas. And in many cases, philosophy is perfect for working on business strategy and tactics. Nowhere is that more obvious than salespeople, the world over, studying Sun-Tzu's The Art of War – the great work on military strategy – to try to gain an advantage over their 'opponents.'
If we could consult another great Asian philosopher, Confucius, what might he teach us about running our business? What wisdom might we extract from his in depth look at life and the reality of things? Let's take a look…
Perhaps one of Confucius' most famous quotes is: I hear and I forget. I see and I remember. I do and I understand.
Think about how that applies to your business. All day long I can give you advice about how to better your business, how to clarify your marketing message, how to generate more leads or how to close more sales. And you can spend all sorts of time watching what others are doing. But it's not until you do it for yourself that it becomes yours. And it's not until you take action that you can truly say you understand. Understanding comes through doing.
Another great and famous quote is: It does not matter how slowly you go so long as you do not stop.
So many small business owners start out running. They get an idea for their business, and go full-forward at it. Soon, however, they fizzle out. The sprinter can never outrun the marathoner – and business is a marathon. There's no need to be in a rush. Solid houses aren't built in weeks or months but in years and decades. Give yourself the chance to be in business for five years or more by working as though you want a business to last 50.
One of my favorite Confucius quotes is: Be not ashamed of mistakes and thus make them crimes.
Look, as a business owner, you're going to stumble, you're going to have setbacks and you're going to fail. Plan on that being the case. Successful businesses aren't built by always being successful. Quite the contrary actually; successful businesses are built on the backbone of what's learned in making mistakes. So when you make them, don't allow them to be lessons in how to move forward and not nooses in which you hang yourself with.
He who learns but does not think, is lost! He who thinks but does not learn is in great danger.
This one stands on its own. As a small business owner, it's important to learn. It's also important to think about what you learn and how it applies to your business. Most small business owners simply take advice or watch what others are doing and try to implement it. Often, they end up gaining little or no success and figure that either they missed something or that they're just not as smart as the other guy. But when you learn something about your business, you need to consider how (think about) it fits into your business. How does it enhance your business? How does it alter what you've been doing? And what sort of response to you expect to see by trying it. Not everything done by others should be done in your business. Rather, find what compliments your business model and integrate what you learn.
Truthfully, I could go on and on with Confucius and his wisdom all day long. These are a few of my favorite quotes from Confucius – from amongst the tens of thousands of quotes I've collected over the years. We can learn so much about ourselves and our futures by looking to the past.
Who, in history, has inspired you and your business? And where have you found critical advice in those who came before us?
Let's talk about it…
(note:  image from  Rob Web on  Flickr,  

some rights reserved)