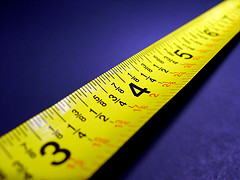 Are you one of those business owners who's not tracking your business activity, tracking your marketing or recording how you spend your time each day working on your business?
If you are – you're certainly not alone. Very few small business owners are measuring their business activity these days – especially on the internet. And even fewer – way fewer – have an established system for tracking and evaluating the effectiveness of each of the most important parts of their business.
This is a HUGE MISTAKE!
I don't mean the sort of mistake where keeping your business opened is threatened – though it could come to that. I mean that you're missing an absolutely fundamental part of running a successful business. Just ask anyone who is successful. They're going to tell you that they key to their success is:
…doing more of what works and less of what doesn't.
It doesn't really matter your field or your niche. If you're an engineering firm who makes $10 million per year, you need to track what's happening in your business. If you're a life coach making $40,000, you need to track what's happening in your business. And if you're just getting started, you want to track what's going on in your business.
Why? Because what you don't measure – doesn't exist.
Strong statement, I know. But just consider it for a moment: Can something that's not being measured really, truly exist?
Now before we start playing a game of semantics about what measuring means – let's consider a couple of definitions:
To measure means to ascertain the size, amount or degree of something by using a marked standard or by comparison with a known object.

AND

To measure means to take an exact quantity or fixed amount of something.
So you don't have to use a ruler to measure something. Your eyes measure everything you look at all the time. You don't need a ruler to know the difference between a long board and a short one. The same is true when you look at a number of something. It's usually pretty easy to gauge the difference in number between a line of ants on the ground and the number in and around an ant hill. So you're taking measure of things all the time – that's how our minds catalog our experiences. Hence, everything you see and experience in your life is because you've measured it in some way.
This is why I can feel comfortable in saying, "what you don't measure – doesn't exist."
So let's move from looking at the world around us to looking specifically at your business. Do you know how many people view your website? Do you know where they come from, what pages of your site they're reading most and what pages of your site they're leaving most from? If you have a website – you should. Just those four things alone can tell you a great deal about the effectiveness of your website in marketing your business.
Now, if you're not measuring and looking at those statistics, are they happening any way. Sure, there are. But do you know anything about it? No, you don't. This is why I say they don't exist. The events are happening – xx number of people are reading your website each week – but because you're not tracking that information and then using it to evaluate your marketing, the visitors really don't exist to your business. Without knowing whether you have 10, 100 or 10,000 visitors this week, you can't really know what they did on your website. And if you can't really know what they did on your website, then you can't use any of the information their visits left you about how well your website is doing. And if you can't use that information, then the visitors really don't exist. They don't exist because you don't know anything about them that you can use in your business.
The same is true whether you have a website or not. Following website statistics isn't the point here. Rather, the point is to have a system setup to evaluate your business at different times, in different manners to find out how well you're doing – and – to do more of what's working and less of what's not.
That's why every business should begin with clear business objectives or goals in mind. And those goals or objectives should be prioritized in importance so that you're always leading with the most important objectives. Once you know your objectives you want to create a method for measuring and evaluating the efforts you're putting out to meet each of them. This way, you can know the most important thing to know in marketing:
…what's working and what's not.
So are you measure your business efforts? If so, what are you doing, how often to you review your marketing? And have you found it necessary to stop doing an activity because it wasn't helping you reach   your business goals?
Let's talk about it.
Oh yeah…I'll be speaking live on this topic further during The Self Employment Telesummit beginning on September 10th. I'm joined by some amazing presenters such as Molly Gordon, Pam Slim, Mark Silver, Sean D'Souza, Sonia Simone, Nancy Marmolejo and a host of others. Seats are filling up so register today.
note: image from ppdigital on Flickr,

some rights reserved)