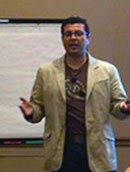 There I was sitting at SOBCon07 over the weekend enjoying the speakers and the conversations they started. Soaking in all kinds of great ideas for taking my blog the conversation (and my business) to the next level.
Then, out of nowhere he said it…what's been on my mind since I began writing publicly. The meaning in the question I asked weeks back.

"Stop calling yourself a blogger," proclaimed David Armano.
"Blogging is a commodity. Anyone can do it. We are human beings with passions and interests that come out in our blogs—not the other way around. Stop calling yourself a blogger. You are a… (designer, businessperson, marketer, artist, baker, mother, grandfather, etc). Calling ourselves bloggers takes away from what makes us unique."
The reactions in the room were interesting. Everything from gasps to confusion to euphoria. Okay, so maybe euphoria is a bit overstated. But that's close to how I felt. Finally, someone was saying it – stop limiting yourself as just being a blogger.
David wasn't advocating that we stop identifying ourselves as bloggers with our blogging circles. What he was suggesting is that we stop referring to ourselves as bloggers to the outside world.
It seems that these words – blog, blogging, blogger, blogosphere, etc – stand in the way of people participating in a new, interactive internet. I hear it from clients all the time, "…isn't blogging just a journal?," "I don't want to have to write so much," or my ever favorite, "my son/daughter has a blog they talk to their friends with…it's sort of silly."
The truth is, this medium is incredibly powerful at reaching an audience. Yet if we only speak in our jargon, we're effectively alienating a huge population of people who aren't blogging. Many of those are potential clients and customers.
David said in a post on Monday:
…my theory is that focusing on the passion more so than the medium (blogging) will lead to a better personal brand.

…Being a blogger doesn't make us unique. Our individual talents, passions and personality does. This is the stuff brands are built from—and blogs, despite all of the baggage that comes along with the word is an extension of our brands, whether it be personal or business.
Again, I couldn't agree with him more. That's part of why his presentation was so refreshing for me. He, in part, said what I've been chewing on for months.
So if we're not going to call ourselves bloggers, what do we call ourselves? Do we need to call ourselves anything? Let's start a conversation…