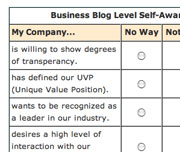 Mike Sansone of Converstations has posted a simple seven question test that can help you decide if you're ready for a business blog.
The test takes about two minutes. You calculate your score at the end. Mike then gives you three categories of blogging readiness based on how you answer the questions.
If you're uncertain about whether you're ready to blog about your business or not, this quick test can help.
And if you want to talk about it more, give me a call (734/475-4387) for a free 25-minute phone consultation. We can discuss your circumstance and I can help you decide on the best strategy for moving forward.