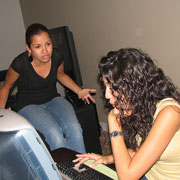 If you run a business you've got to realize one thing…no one cares about what you do.
Really. Your audience doesn't care about you, your story, how you got to where you are, who you've worked with, or what services you offer. They don't care that you're the best widget maker in the midwest. And they could care less if you've got some new perspective on their health crisis. They're simply not going to hear that.
So why do the great majority of businesses still market themselves as though people care? It's not very effective. It reaches only a small audience. And it's a huge waste of time, energy and money.
So what do people care about then?
Themselves!
They care about themselves. They care about their pain, their suffering, their issues. They care about the problems they face in their lives, their health or their business. In other words – they care about their own story.
You see, the great majority of people don't begin looking for help until they need it. That means people mostly buy when they have a need. The need is often a problem they're facing. And it's the problem that they're looking for a solution too.
So contrary to what many business owners believe, people aren't looking for a product to buy or a service to use. Rather, they're looking for a solution to their problem. And often, they don't care whether it's a product or a service – or even who's delivering it. They just want their problem solved – they want their pain to be relieved.
Take a second and think about the websites you visited lately or the brochures you've picked up. Think about how you felt reading them. Are their any that spoke to you more than others? Think back as to why. I would suggest that the ones that spoke most to you spent less time telling you about them and more time telling you about you.
If you can see this, you'll see the key to converting views, whether your website, a print ad or your brochures, into contacts. And that's what you want. Especially if you really can solve their problem.
So how are you telling your audience's story? Or are you telling your own a bit too much? And as a consumer, what do you respond to – their story or your own?