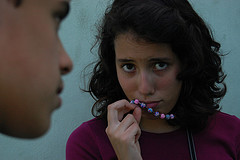 Is it wise to use your business to hurt people?
You'd probably agree with me that it's certainly not wise to hurt your customers or potential customers. That seems pretty clear, doesn't it?
But what about the people you work with or who work for you? Is it okay – is it appropriate – to hurt, abuse or cause your staff, peers or partners to suffer simply because they work with you?
Hopefully we all know the answer to this question as well. That's why I'm a bit perplexed this morning from an email I got yesterday. The email as interesting in that I was being blamed for giving someone's former boss 'carte blanche' to be abusive. The writer of the email referred to my post Why Being Unreasonable Can Lead To Success.
In the article I propose that to build a successful business you need to be willing to drop conformity and strike out on your own path with your business. I compare running a business to my many backpacking trips where I'd hike on trail until I got a feel for where I was. Then, I'd get off trail and explore sights unseen by most. Here's an excerpt:
…Be willing to cut your own path. At the very least, explore off trail. Don't just be a follower who adapts his or her self to the conditions that already exist. Rather find your independence, become your own leader and make the conditions that surround you work for you and your business.
What I'm saying is own your business. What that means is be the person who makes the decisions. Use the knowledge you gather from any source – coaches, books, seminars, teleclasses, trainings, etc. Learning it. Then use it to cut your own path in business rather than just following along with what you're taught.
So nowhere in the article am I referring to being abusive, unkind or impolite with anyone. If you're not kind to the people you work with and for (clients & customers included) then you're making a terrible mistake. Successful businesses are built on the foundation of sound, caring, mutually beneficial relationships. Relationships that are nurtured for the benefit of both people. From what I've witnessed again and again not nurturing relationships is business suicide.
Whenever I'm in a relationship with anyone, regardless of their position, I'm trying to remember that what comes out of them is from them. For the most part, the circumstances that cause any sort of reaction are irrelevant. What IS relevant is how we respond to the circumstances. Whenever someone does something we don't like, we have a choice. The choice is to respond to them with cruelty or with kindness. And the is true in every situation in our business … and our lives.
So have you had these sort of experiences where a boss, a partner or a colleague is unkind or abusive? Or have you had clients like this? What have you done about it?
More over, what importance do you put on nurturing relationships in   your business? How is that importance viewed by others?
Let's talk about it.
(note:  image from  Bhernandez on  Flickr,  

some rights reserved)