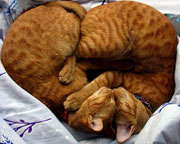 Would you like your customers and clients to promote your business for you? Of course you do, right?
Andy Sernovitz, author of Word of Mouth Marketing: How Smart Companies Get People Talking, states that around 80% of online shopping time is spent researching products (and services) rather than buying. And 77% of online shoppers will read reviews before making a purchase.
So obviously what people think about you and your business is very important to your success. And with blast and interruption marketing being less and less effective, what people are saying about you becomes even more important.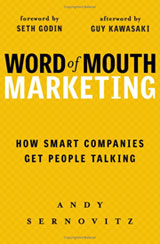 In Andy's book he says, "Traditional marketing is no longer the safe way to go. It may make you more comfortable, but it is becoming gradually less and less effective… It's time to focus on making customers happy – earning their trust and respect and getting them talking about your stuff."
So how do you get your customers and clients to talk about you and promote your business? Well, first, "Happy customers are your best advertisers." (from Andy's book).
But I go a step further…I say get your clients to fall in love with you.
Think about what happens to you when you fall in love. You're giddy and excited. Your face carries a perpetual smile and your stride has a bit more bounce to it. And when you're in love, you can't help but telling people about it. Especially your friends.
That's exactly how you want your clients and customers to feel from their work with you. You want them to leave your meetings excited, hopeful and with a bit of bounce in their stride. Then you'll be the topic of conversation when your client talks to their friends.
So how do you get your clients and customers to fall in love with you? Here's 7, rather easy, ways to begin:
Be nice
Above all things, if you're kind, polite and compassionate, they will feel it. And they'll internally compare how they feel interacting with you with how they feel with others. It's subtle, but it makes a huge difference.
Be fully attentive
Whenever you're interacting with a client or customer, put everything else on hold. If things come up during a meeting, write them down so they don't get in the way of your being fully present. You know when someone isn't fully there with you – and your clients do too.
Exceed their expectations
Whenever the opportunity presents itself, take the extra step. Doing small tasks that have little impact on your time can pay huge dividends in how your clients see you. Going above and beyond creates a 'wow' affect. It makes them feel like they're the most important client to you. And that's what they'll talk about with others.
Listen to what they're really telling you
People don't always do a great job saying what they really mean. Listen to their words, AND listen to what they're saying between the words. When you answer the unspoken questions and concerns your clients will trust you even more because they'll feel like you really 'get them.'
Help them understand how
People have hired you or bought your products to help them solve some problem in their business. So make sure it does. If they don't understand how to use it, they won't and, in turn, you won't succeed either. They have to be successful for you to be successful.
Always follow up
If you say you're going to do something by a certain time, do it. Do it earlier, if you can to exceed their expectations. And if you can't do it on time, let them know as soon as you do. If you keep your clients well informed, it will go a long way to building respect and trust.
Stay in touch
Even after you're finished working directly with them, stay in touch. Give them a call or send an email that specifically asks them how they're doing after working together or buying your product. Trust me, this will be a very pleasant surprise. And, it can give you valuable feedback as well.
Here are but a few ways to make your clients fall in love with you. Put them in action and you'll have raving fans who want to tell everyone they know about you.
I know I haven't covered all the ways to make your clients fall in love with you. So let's talk about it. What's worked for you? What hasn't? And what have I left out?