Or do you get that it's not about you?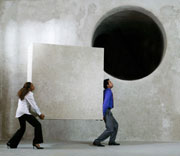 That's right. If you're the business owner – it's not about you. So, then, who is it about?
It's about me – the client, the customer, the patron, the prospect – whatever term we want to use to mean, "who you're in business for." If you're blogging, it's who you're writing for. You know, the people who read and comment on your blog posts.
Yet, so much of the copy I see on the web isn't focused on me and my needs at all. Rather it's focused on the business and, truthfully, their needs.
Think about the sites you've seen. More often than not they say things like, "We can do this," or "Our services blah, blah," or "We have 50 years of experience." Then there's my favorite – "our mission is…"
As a consumer, I don't care about your mission. I don't care what about what you do, your services or your decades of experience. I care about me. I want to know what's in it for me. How can knowing you benefit me? What can you do to help me?
If I'm 'in the market' for something, it's likely because I have a problem. What I need is a solution to my problem. And if I'm visiting your website, I need to know first that you understand my problem and, then, second that you can help me solve my problem. But I can't know you can solve my problems unless you tell me so.
I was going to write some tips about how to create a more customer-focused marketing message. But I'd rather have that conversation in the comment box because I really want to hear your ideas. So…let's talk.