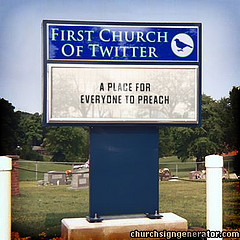 Can Twitter really help your business? Or is it just another place on the web to waste time.
This is something I get asked all the time by clients, prospective clients and just about anyone else I meet and chat with. Heck, my mom called me a few weeks ago just to ask me, "what is Twitter?" So if it's reaching my mom, who is somewhat computer savvy, it's probably something we all want to figure out how to interact with.
But the question still remains – can Twitter help your business?
The answer…well, yes…and…no.
Okay, I know what you're thinking…how could it be both?
Simple! Twitter is nothing more than a channel you dial in to whenever you want to connect. You can use that channel in any number of ways. For instance, if you don't have a business or if you're not trying to market your business on Twitter, then you just get to follow and engage in conversations. From those conversations you'll meet interesting, like-minded people and possibly develop new friendships.
The same can be true if you have a business you're trying to promote using Twitter. You can also get into engaging conversations, meet interesting people and develop new friendships. And, that's all Twitter can be.
But if you want to use Twitter to increase your reach, or find prospective clients, you need to go about using it in that way. Which means you want to have a plan.
Now, when I say plan, I don't necessarily mean some highly structured, graphed out approach to leveraging Twitter to meet your business objectives. Rather, I mean that you're clear about the possibilities and opportunities that you find yourself in as you use Twitter. It's difficult to take advantage of opportunities – even see them – if you're not looking for them.
And that doesn't mean that every tweet you ever write, respond to or retweet on Twitter should be about gaining business. As a matter of fact, that's often the wrong tact. People smell it when you're not forthright about your intentions. And they definitely smell a marketing ploy. Just be a real person who has a business interacting with real people knowing that some of them will likely want what your business offers.
So here's some tips on how to see the opportunities when using Twitter:
Be clear on your Twitter objectives. If they're personal, great, keep it that way. If they're professional, then make sure you know what you want from using Twitter
Do it. In other words, do the things that will meet your business objectives. And if you don't know how – get some help from someone you trust.
Reach out. Twitter can be a great place to reach people you normally wouldn't, or couldn't. So be the one who reaches out to others. Just be sure to keep the conversation honest and be upfront if you have business motives.
Follow the people who follow you. It's more difficult to do as you get more and more followers. But, especially in the beginning, people will often connect with your immediately if you follow them back.
Be aware. Always look for business opportunities. I not saying always be marketing. Just be aware that even the most benign conversation could open into a business possibility. Be looking for them – just don't force them.
Remember, it's about people. Twitter is about conversation and building relationships. Even if you're using Twitter to promote your business, be sure you're clear that it's about the people on the other end of your tweets.
Do your research. When you get into a good conversation with someone, find out about them. Learn about their business, visit their website, signup for their feed. Learn what you can so you can deepen your relationship.
Find partners. Twitter can be a great place to find people to partner with in your business or on new projects. Again, simply look for the opportunities.
Be aware. I know I said this already, but it needs repeating. Be awake to the possibilities around you. Listen closely in conversations about what people want. And when you find something that you can help with – help them.
Lastly, and MOST IMPORTANT, be real. Even if you're promoting a business on Twitter, remember that you're a person interacting with other people. Be true to yourself and transparent with everyone else.
Twitter provides some amazing opportunities. I've met hundreds of interesting people on Twitter myself. Some are just interesting conversations. Some become more regular relationships. Some have become friends. And others are interested in how I can help them in their business. And I try to meet each of them where they are.
Getting clear on how to use Twitter can be the difference between wasted time and a growing business. It's important, then, to know what you're doing with Twitter and then do it. This is one of the reasons I've created my teleclass, Learn How to Use Twitter to Get More Clients. I'll be sharing a number of the things I do to successfully use Twitter to promote my business without being an annoying marketer who's only out to make a buck. Read more about the teleclass and register by clicking here.
And let me ask…How are you using Twitter? Do you promote your business? And if so, are your efforts giving you returns?
Or are you lost and uncertain how to use Twitter to find more clients?
Let's talk about it.
(note: image from wiselywoven on Flickr,

some rights reserved)