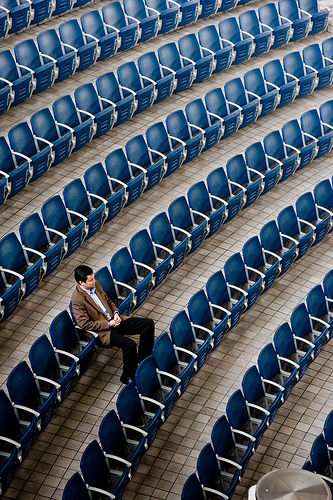 Imagine if you developed subdivisions and built houses for a living. What would it be like if you built a bunch of beautiful homes complete with garages and drives, but didn't  build the streets that connect them? How could you possibly sell all your homes and develop a thriving community if people couldn't get in and out of their homes?
Sounds sort of crazy, huh? No one in their right mind would ever conceive building a neighborhood or developing a community that wasn't linked with ways to get in and out. In essence, without houses being connected by sidewalks and streets, there would be no community all – just a bunch of unreachable, free-standing (and empty) homes.
Well, if your website isn't developing a community around it, then you're not thinking too differently than the subdivision developer who doesn't build streets. And if you're not building community around your website, then it's likely your business is suffering online.
The reason is people want to belong. They want to find like-minded people with similar interests to connect with. They want to associate with other people who are in similar situations. In other words…they want community.
Nowhere is this more evident today then in the explosion of social media on the internet. What do you think the 500 billion people are doing on Facebook? And what are all these 'tweets' on Twitter about? Why are people using these sites in record numbers?
Because these sites allow people to connect with other people. In some cases, people with similar interest. In others, people they can learn from. And in still other cases people who can help them solve their problems – whether they're personal, professional, health or business and so on.
Everyday the internet becomes more and more of a space for social engagement. And so should your website. Your website needs  to evolve with the changes toward a social internet or you'll quickly watch it fall behind. Right now, this moment, sites that are socially oriented are building communities and, through those communities, growing their business. Sites that are not community-oriented are merely becoming placeholders for outdated and uninteresting content. Sorry, it's just the fact of the matter. People don't just want to read, they want to feel they're connected to something. That something could (should) be you, your website, your business, etc.
So what does all this mean for you?
Basically you need to engage your target audience where they are! And right now, they're on social media sites connecting with other people (read: other service providers).
You need to develop a website where you can engage your audience – and them you. You need to develop a web-based marketing plan where you're actively engaging real-life people through these social spaces using these social tools. And you need to remember that business happens most easily, most often from relationships. A community, remember, is just a group of relationships – nothing more really.
As for the tools – Twitter, Facebook, Biznik, LinkedIn, etc – forget about all the hullaballoo and fancy marketing tactics. You don't need to know any of that stuff. All you need are to know can be summed up in these two words: Listen and Engage! Listen to what people who have similar interests as you are talking about. And then, engage them in conversations. From conversations you build relationships. String together a bunch of relationships and you have a community.
Listen and engage! Listen and engage! Listen and engage. That's it. Do this and it will change your business, your understanding of the internet and bring you into relationships with people who you have a natural affinity to. Listen…and…engage!
How are you using social media and your website to engage potential clients?
Are you listening to what they're talking about? If so, how….if not, why not?
Let's talk about it.
(note:  image from  Luke Chan on  Flickr,  

some rights reserved)