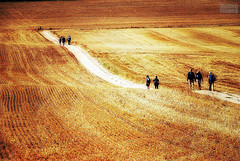 How do you define success in your business? It's a question I ask every client – and most of the prospects I ever speak with.
The interesting thing for me is how often the people I speak with don't have a specific answer. Sure, we can come up with just about anything on the fly. Yet it's not difficult to tell the difference between established, well-thought-through business goals and those that we sort of find when we need to talk about such things.
Having a way to measure the success of your business, however, is one of the most vital parts of running a business.
It doesn't matter whether your business is selling products, providing services or selling ad space on your blog – it does you good to have a clear idea of your goals. And, hence, a clear definition of what success looks like for your business.
All my clients use the web in some form these days. So often I hear success measured in visits to their website or page rank in Google. Sure, those are measurable results. But I, as a business advisor, would never consider those to be metrics used to define success of your business.
Let's think about it for a minute…
You can have a page rank of 6 in Google and get 1000 unique visitors a day to your website or blog. That's good, right? And most of us would be happy with numbers like this, right? Heck, the way Google's playing around with page rank these days, I'd be happy to get back to a 6.
Yet, your page rank doesn't equal income. Nor do any of those visitors guarantee a dime of revenue. Sure, if your website is selling ad space, you might get bits of cash for impressions. And you may be able to get a little higher ad rates with traffic and page rank higher. But you're certainly not going to make a living on that alone.
And so these aren't very solid metrics to use for defining your business success. Don't believe me, ask around and see. Personally, I know more than a dozen bloggers who have highly successful blogs – more successful than mine in terms of traffic, page rank, back links and Technorati rating – who aren't making enough money to cover their monthly expenses, let alone turn a profit. A couple are good friends that I'm trying to help out.
The point is you want to define the success of your business based on what you've set it up to do – make money. That doesn't mean that you only measure by your bank statement at month's end or by your bottom line accounts receivable versus accounts payable. There's more to it than that.
For instance, take whatever you're doing currently to market your business and track responses from your marketing efforts. Let's say that one of your goals is to spend some time commenting in forums to drive targeted traffic back to your site that you can convert into leads. It's a clear goal and something that can be easily measured using basic website statistics. Measuring your success might look something like this:
You posted 50 times in the forum last month. From those posts, you got 41 referring links from the forum to your website. From those visitors 11 commented on a blog post (leaving their email address with you), 6 subscribed to your newsletter and 1 contacted you directly with a question. You can then decide whether those 50 forum posts were worth the effort (I'd say yes, depending on what the commenters and newsletter subscribers do over the next few months).
You see, the idea here is that you set metrics that relate to your business goals. The month of forum posts may or may not directly result in revenue that month. But it's not always about revenue. To make money you need leads and so the work you did in the forum could have been about generating leads – which you did. Now you just have to create the next metric for converting those leads into paying clients.
Measuring your success isn't difficult. It just takes a little strategy, planning and forethought. And on the web, tracking results is incredibly easy. You just have to know what you're tracking – and why. Then you can adjust your efforts for the next round of lead generating activities. That's how successful business owners use the web.
How are you measuring your business success on the web? Are you at all? If not, why not? Would it change if you had someone to help you (I know someone, personally)?
All-in-all, how do you know if you're successful with your marketing efforts?
(note:  image from  victor_nuno on  Flickr,  

some rights reserved)