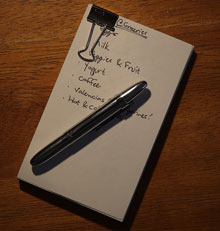 What do you do with your Monday mornings?
So many people I know sit down at their desks and mess around for an hour or two – reading news or catching up on email. Others grab a cup of joe and jump right into the project they left on Friday.
If you're in business for yourself, mornings are often crucial to your workday. A well-spent morning can often mean the difference between a productive workday and not.
But what about Mondays?
Over the years I've tried lots of ways to get the most out of Mondays. I've tried to do first things first or focused on getting done that one thing that's most important. I've taken a relaxed approach to Monday and have jumped right into working. I've even used techniques like visualization or meditation to try to set the tone for my week.
Many of the things I tried were helpful. Sometimes I'd jump right into the most important project of the week and try to get as much done as I could. This would be great because it would set up the week for me to make lots of headway on a project.
But nothing I tried was really setting me up for success – either for Mondays or for my week. So I sat down one Monday morning and forgot about getting things done. Instead, I decided to focus on how I wanted my days and my weeks to look. How did I want to manage my client's needs, their projects, their communications with my needs to continue to develop and grow my business?
I looked in many directions. What I realized was that I'm most effective when I'm clear about what I need to get done. I keep a pretty good log of where I am on each project and where my client's are in their process so that's seldom been a problem.
What was a problem was decerning when to do what.
So I decide that every Monday morning I would take the first 60-90 minutes of the day and lay out my week. I started by looking at deadlines and comparing the progress on each client's work I was doing. Then I started placing what needed to get done for the week into which days I needed or wanted to accomplish the next pieces for my clients. Then I leave those project parts attached to those days – and move on (I organize the day for 15-30 minutes each morning).
After I have a rough roadmap of my week, I then turn to Monday in general. Monday's I seldom schedule calls with clients. I use Mondays to do various task that are important to my business – like accounting. I also use Mondays to working directly on my own business – where my business is my client. While I do work on my business throughout the week, I often don't have as much time to work in blocks as I make on Mondays. This way, I make time for my business to grow and develop.
So for me, Monday mornings are all about setting some organization for the week. This has been so effective for me that I'm wasting less time and getting more done each week – which means more client work getting done – which overall means generating more revenue.
So how do you make your Monday mornings most effective?