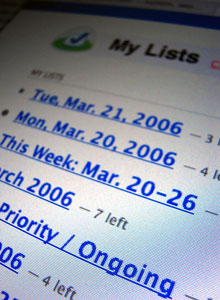 Do you make to-do lists?

Most methods for productivity include making various to-do lists of the things you want and need to get done. Whether it's David Allen, Stephen Covey or Jerry Seinfeld, everyone suggests making lists.
But do you ever find that your lists keep growing? Or do you get discouraged looking at a never-ending list of stuff that needs to get done? Or worse, do you find yourself not getting things done because you're overwhelmed by your to-do list? So, what happens when your to-do lists start doing you?
What happens when the to-do lists you make begin getting in the way of actually getting things done?
Personally, I make lists all the time. I live by lists. While I'm not a fan of Getting Things Done, I do appreciate and use some of David Allen's approaches. For instance, I do write my to-do lists in order of urgency. I also get the things done immediate that will only take a few moments so they never end up on a list in the first place. And one of the more helpful suggestions I've taken from GTD is getting everything out of my head and onto a list so that my mind isn't tied up remembering things.
But to-do lists can take over your business – and your life. They can grow out of control, making it difficult, even overwhelming to getting things done. Just spend a few days writing down all the business ideas and tasks you face and you'll quickly see what I mean. How could you possibly get all that done.
Well, in truth, you're not supposed to get all that done. What you're supposed to do is get all that stuff out of your head and onto to-do lists so that it's not taking up mental space in your mind. But the second function of to-do lists is being able to sort what needs to be done, what should get done and what could get done:
What needs to get done – These are the items on your to-do list that are essential. Either they are the next step in a project for a client or the development of a course or product. Or they are any item that must get done as soon as possible.
What should get done – These are the items on your to-do list that do need attention, just not immediately. This list is sort of a master list that stores everything that I will eventually need to get done. I create a to-do list for each part of my life – work, home remodeling, personal projects, etc. It's from this to-do list that items move to the 'needs to be done' to-do list. For instance, the next 'must do' steps in my client work.
note: I'm realizing only as I write this that this to-do list is the master to-do list for my business (never thought about it this way before). It holds the full picture for all my client and project work. So, in essence, this is is rather large and segmented by project. It's also the most dynamic to-do list since items are constantly coming and going.
What could get done – The items on this to-do list are more larger, big vision-type items. It could be an idea for a new product or service or some brainstorm of a joint venture I want to look at. Basically, this is a list of the items that are not necessary in my day-to-day/week-to-week work load.
These three basic to-do lists make up the bulk of how I work. The 'needs to get done' to-do list is where my immediate action steps live. This is my 'gotta get it done now' list. I look at it multiple times daily and often only do the items that are on this list. I usually try to build this list out on Monday mornings to be done for the whole week.
As I mentioned, the 'should get done' to-do list is my master list. As items are completed on my 'need to get done' list, new items from the 'should get done' list move up to become 'need to get done' items. For example, the once one step in a project is completed, the next step on that project moves from 'should be done' to 'needs to be done.' I go through this list on Monday mornings, again on Wednesday and then near the end of the day on Friday – making sure the right items are being promoted.
The 'could get done' to-do list, for me, is where I house all my ideas, brainstorms, brain dumps, and creative thoughts. Often it holds the overall vision of my business. Since I vision on my business a lot, a few times a week, actually, this to-do list tends to also become a development ground for ideas and new directions before it officially becomes a project. If you saw this list, it's often mind maps, outlines and sketches.
The flow of all these to-do items is what keeps my to-do lists working for me. These days I seldom find myself in a situation where my to-do list is doing me. Instead, I get things done – in an orderly, efficient and effective way.
What do you do to get things done? Is there a method that you've found works best for you – if so, what? And where is the biggest gap in your to-do list system?
Let's talk about it…