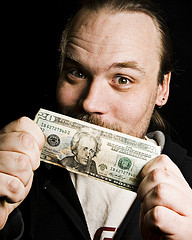 So there's more talk of economic stimulus for our sluggish U.S. economy. If this is going to be like the previous stimulus then we can guess it's not going to be much of a help, right?
As a Life Coach, a Business Coach, or a Holistic Healer you probably have been feeling the affects of the slow economy in the U.S. (and globally) since way back in 2008. Hopefully you've found a way to kick-start your life coaching practice and climb out of your own sluggish economy.
But maybe not. I've spoken and worked with dozens of Life Coaches and Business Coaches the past few years who are struggling to find clients. They've seen a downturn in their business just like the one we're seeing in whole economy.
Many of these Life Coaches have worked really hard just to find enough clients to say in business. Others, well, they haven't stayed in business. One of my favorite clients over the past few years said it was 'all just too overwhelming and stressful' to keep her business coaching practice open. So she went back into the corporate sector – for less pay. Even with my help she just didn't have the stamina to rebuild her business.
As sad as that is there's still tons of Life Coaches and Business Coaches – maybe like you – who are out there trying to work their own economic stimulus.
Well, you can create your own, 4-step economic stimulus plan. And it doesn't have to be difficult, complex or cost you a bunch:
Stop & Think
Plan Your Work
Work Your Plan
Make Sure Your Plan Is Working
Each step is really important.
First, stop what you're doing and think. Think about where you are and where you want to get to. Be honest with yourself about the current state of your business. If you don't have enough life coaching clients, be honest. If you have no idea how to get more clients – get help.
Second, plan your work. Doesn't have to be a big, complex plan. Keep it simple. Highway maps are usually pretty simple. And they let you see the route to take to travel from where you are to where you want to go. Your plan should do the same thing. And it should include actionable steps along the way. Just remember, without a map you're probably going to get lost.
Third, work your plan. Now that you have your map, use it. Begin traveling. You can't drive from Chicago to Denver without doing some things. You have to fuel your car, get in, turn it on and drive. Same with your business. Do the items that you plan to do. And just like with traveling, expect construction and detours and slow downs along the way. Just keep working your plan.
Finally, make sure your plan is working. How do you know it's working? Measure! Pull out your map and our itinerary and see how you're doing. Are you as far as you thought you'd get? Are you doing some things that aren't helping you get to where you want to go? What's working? What's not? And then do the obvious – more of what's working…less of what's not.
And so there you go. You can keep it really simple and build your life coaching business. Just don't take too many detours along the way. And if you're stuck, again, get help.
You can be successful as a life coach or business coach. There's nothing stopping you from having all the clients you need. You just need your map to get you going.
(note: image from Cayusa on Flickr,

some rights reserved)