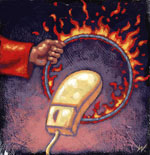 Do we still need email newsletters (or ezines, as some call it)?
Many websites today are setup to get visitors onto a newsletter list. When you read the copy on their site, much of it is geared toward selling you a free report or workbook. And how do you get this workbook? You have to 'pay' with your email address. That's why I say the sites are selling you the workbook. Just because you're not spending money, doesn't make it free.
Anyhow, once you're on the list you get targeted messages meant to get you to buy the next level of product or service. Often it's an e-book or an entry-level seminar. Many times the marketing in the newsletter is cleverly disguised by a short article that's meant as a hook to get you reading. Then the sales pitch comes – you need our e-book…
Don't get me wrong, I've done it myself. I have a newsletter list and it continues to grow. As a matter of fact, it's grown much more rapidly since I began blogging. You can sign up for it here.
But I'm beginning to question the need for a list. Who does the list serve? It serves me, right? How can it serve my audience when I'm in control of it? I'm in control of its content, the sales pitch, even when it interrupts your life through your inbox. All this keeps me, the business owner, in control.
Yet the marketplace is changing. Marketing is changing. Email is changing. There's a wave of backlash growing against interruption marketing – and certainly against spam. Consumers now want to have more control over how they're marketed too – and when. So is the e-newsletter going by the wayside? Are business owners just afraid to let it go because they'll loose control? How do technologies like RSS fit into the mix?
Yaro has his opinion. What's yours?
UPDATE: I've added a link to Ted Demopolous' post, Blogs & Ezines? Complimentary? since he added it after commenting on this post. Thanks Ted.