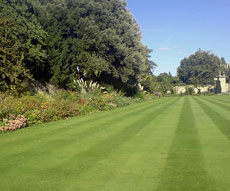 A couple of years ago John was laid off from his job working in the assembly plant for Ford Motor company. He'd been there 15 years and came to work on a Tuesday to find out he was being laid off.
John had worked at some sort of job since he was nine. He had a paper route, then three. When he was eleven he started mowing lawns for neighbors. That quickly grew to raking leaves and shoveling snow.
John never much liked school and so as many of his friends went off to college after graduation, John landed a job with Ford assembling dashboard parts on the assembly line. Good work – and great pay – for a eighteen year-old.
Now, at thirty-four John found himself out of work. John hadn't married yet – though he was dating the woman who would become his wife. And living a simple life in a modest house he managed to sock away a nice little nest egg.
It wasn't money that drew John to look for work a few weeks after being laid off. He just wanted to be doing something.
He started by dropping fliers in his neighbor's mailbox offering handyman services, lawn maintenance and landscaping. Here and there the phone would ring and he'd get odd jobs doing work for people. And soon he was back mowing lawns every week. Since most of his neighbors had mowers, he often used theirs – saving himself the trip with his own.
John took great pride in mowing lawns – as he learned to when he was a young boy. His lines were symetrical and straight as an arrow. He could even manuver around trees in a way that didn't curve the cut lines the mower left on the lawn – something he'd worked out the summer he was fourteen.
And when John was finished with the mower, he cleaned thoroughly, filled the gas tank, checked the oil and put it back neatly in his neighbor's garage. Then he'd leave a little note of some sort, thanking his neighbors for giving him something to do while he was laid off and letting them know that he'd only be available until the plant called him back.
Every week the phone would ring and someone new would ask John to mow their lawn. A the next week another; some weeks two or three people would call. Each one John would manicure their lawn as he cut it, clean the mower, place it back and leave a small note of thanks.
This went on for a few months until John realized that he was back running a lawn service business just as he was when he was a boy. In three months he had gone from cutting his neighbor's lawn to cutting the lawns of 28 people a week. And at $20 a lawn, he was making a nice bit of change. He wondered how he'd done so well with no effort at all.
It was mild Sunday afternoon and John was sanding the deck off the back of his house when he heard two of his neighbors taking. As he went over to say hi he heard them mention his name and his lawn mowing. He paused for a moment wondering if he'd done something wrong. Quite the contrary.
You see, John gave meaning to mowing a lawn. He cared about how the lawn looked more than how quickly he could get it done. He took such care as to clean, fuel and replace the mower. And they talked about those little notes he left.
John paused and thought. Every lawn he was mowing was because one neighbor talked with another. He'd done nothing to get 28 lawns except put his caring and pride in his work. He wondered what could happen if he started a professional lawn service with the same intentions.
John was never called back to Ford. But today he runs a lawn service. He works from April to November and then takes most of the winter off to spend with his wife and their newborn son. Everyone who works for him is asked to take pride in their work. John's taught them how to mow straight lines and how to make that special curve around a tree. And when every job is completed, a small note is left that meaningfully thanks the customer for their business.
Last year, John had a waiting list – both for crew members and for customers. He's thinking about expanding this year. Funny thing is, he still doesn't market himself. He doesn't even have a website I can link you too. All his business has been through word-of-mouth.
John's care for his customers brought meaning to something as simple and mundane as mowing a lawn. In the meaning came the way for John to make money. The beautiful thing is that he focuses on making meaning and lets the money follow. Great lesson for any of us buiness owners.
Make meaning with your business and the money will follow.
Are you making meaning with your business? I'd love to know how.
And if don't feel like you are, what's one thing you can do to add meaning to the work you do?