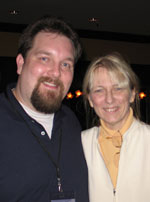 Liz had been telling me (that's she and I on the right) for weeks that SOBCon07 (link to pictures) was going to be a different kind of conference. How? She kept telling me that we were going to take the comment box to the conference room.
Boy, did that ever happen.
From when I arrived on Friday to meet my friend Adam Kayce to talking WordPress with Lorelle VanFossen til 1:30am Sunday morning, the conference was really one, large conversation. It was incredible, amazing, remarkable. So remarkable that while I'd like to share with you all my experiences I'm sure I'm unable too.

But that doesn't mean I can't share with you the incredible relationships I built and deepened.
First off, Christine Kane was amazing Friday night. Her voice, her guitar playing, her use of story – I loved it. If you don't know Christine's music, you have to check it out. Or at least watch her videos. And if she's coming to you town, you have to see her perform live.
After talking a number of times to him on the phone, it was finally great to meet Mike Sansane. He's a great guy and an even better hugger. And the presentation he did with Drew McLellan and Mike Wagner on ways to improve our blogs was stellar.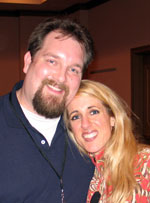 There were a few people I was specifically looking forward to meeting. So when Wendy Piersall (and me in the photo) hopped in on Friday night there was nothing I could than jump out of my seat and wrap her in a huge bear hug. Her presentation was dynamic. If you're going to BlogHer, she'll be speaking.
I finally got to meet Chris Brown. We've been sharing on our blogs back and forth for months. And Robert Hruzek, who recently replaced his blue shark with a real photo of himself. Oddly, he left my 1000th comment.
On Friday night Connie Reece was keeping us all updated on the fashion coordination between Drew and David Armano. Seems that Drew was looking for pink pasley. Connie was rewarded with drawing Tim Johnson as her blogging buddy. Tim and I had a great conversation around being wierd.
If you're blogging, you probably know Make It Great's Phil Gerbyshak – the guy with the best smile in the blogosphere. He is every bit as sweet in person. He's electric…no other way to say it. His presence is contagious. I feel fortunate that I'm his blogging buddy.
So many other people I met. I found out the spelling of Troy Worman's name was misspelled a few hundred years ago and has stuck ever since. It was great hearing Director Tom talk video with Ben Yoskovitz. Spending time with Jesse Peterson, Mark Goodyear, Alex Shalman and Lisa Gates was a blast. As was my running comment joke with Jonathan-C Phillips – which continues.
Meeting Word Of Mouth Marketing author, Andy Sernovitz was a highlight for me – since much my marketing tends to be word of mouth. I highly recommend his book.
I finally got to meet Ben Yoskovitz – whose blog I read daily (and whose birthday was Monday) – and Peter Flaschner and Lucia Mancuso from The Blog Studio. I'm a big fan of their work. You have to check out their Beginner Blog Basics series.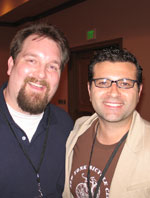 My friend Dave Schoof, who couldn't make it, asked me what my favorite presentation was. They were all great. And I really enjoyed David Armano – twice (three times if you count the photo to the right). Once, speaking about Conversation by Design. The second time was his, Liz's – and the group's – critique of this very blog. Very helpful. Thanks David, Liz and everyone's feedback. And watch for changes in the coming weeks.
A few of us work-at-home dads were there together. Easton Ellsworth – who did a nice brain dump during the event, Mark Goodyear, and Tony D. Clark. It took us til late on Saturday night, but Tony and I finally got to talk shop a bit.
Then there's Lorelle…yeah, that Lorelle. We talked WordPress until the wee hours of the Sunday morning. She's great (and knows a ton). Not to mention, she's a sweetheart.
Had some other great talks with Mr Geek With Laptop himself, Sean Rox and Franke James. Sean, thanks for the tips on my site. And Franke, thanks for being a great listener and for offering your help. I just found Franke's second blog – Office Politics – it's a great read.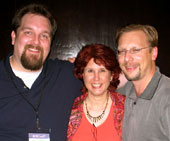 When I think about it, I spoke the most with the Crees (here we are togther). Chris and Lisa. Chris Cree you probably know. Lisa you should. They're both quite lovely people. And they both worked tirelessly on the event. If we didn't live 900 miles apart, I could see my wife and I having them over for dinner quite often.
Of all the remarkable moments during the event, the most selective had to be Terry Starbucker singing a little Elton John to close the show. The position of master of ceremonies fit him really well.
Gosh, there's so many more people I met. Like PurpleWren, Barry Zweibel, Joe Hauckes and my new blogging buddy Kammie Kobyleski (hi Kammie).
Then there's the folks I really wanted to meet and speak with but couldn't get enough time too. People like Steve Farber, Kurt Blumberg, Muhammad Saleem, Vernon Lun, Rick Cockrum and Dr. Tammy Lenski. The truth is, there wasn't enough time to meet everyone. So I could go on just keep naming people.
If you couldn't be there, don't fret. There are plenty of photos floating around. And Jason Alba took an amazing set of notes on many of the sessions.
But if you were there, drop me a line and say, "hi," because I miss each of you already.