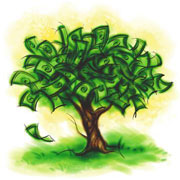 This morning I was talking to a good friend of mine about pricing his business services. I know him (and his work) very well and know that he's highly under priced for what he offers.
Yet he's torn about what to charge. On the one hand, he sees similar solopreneurs charging three and four times what he charges. On the other hand, he doesn't want to price himself out of landing any business at all.
I've been through something similar when I was getting back into web design full time a few years ago. I had a ton of knowledge having done web design professionally years before. Yet I had very few clients.
What I decided to do was charge far less than I was worth just to land some business and create momentum. It was a conscious decision at the time – and one that worked. As I got busier, I raised my rates.
And while I'm still charging about 50% of what my direct competition/peers are for web-based business development, my business is healthy. I've chosen to keep my rates where they are so to not price myself out of the market of startup solopreneurs. But should I raise my rates as well? It is something I'm considering.
So back to my friend (I didn't ask his permission to write about this, so I want to keep him under wraps)…How do you decide what you should charge?
My own thoughts have been charge for the value you give your clients. The, effort, then, comes in clearly communicating the value of what you offer. How can you help your client solve their problems (and make more money)? But what is that worth?
But what do you think? Do you charge what you're worth? How did you decide what you're worth?