Ever lose your client calendar? Well, neither had I…until Friday.
By some odd combination of keystrokes, I deleted my client calendar within Apple's iCal.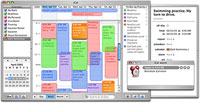 iCal is neat in that I can have multiple calendars that can service different puposes. I have different calendars for family, home, personal appointments, holidays, birthdays, etc…and, of course, my work calendar where I keep detailed track of all my client work.
But not any more. The client calendar is gone. Yeah, I know what you're thinking…just select 'undo.' Tried it, it was grayed out. Next I spent two hours on the phone with Apple trying to get the calendar back – only to be told that once it's deleted it's deleted. Not in Trash. Not in cache. Gone. This I found odd that the file wouldn't end up in Trash or that it couldn't be rebuilt.
Funny thing, I wasn't asked to confirm if I wanted it deleted. It just got wiped away. And I still have no idea what keys I hit that made it happen. Could this be rare? Do I feel safe using iCal for business anymore? Not sure yet.
Yes, there is a backup feature. But it's manual and I've never bothered with it. That will change.
In the meantime, I'm looking for a new calendar program for the Mac. I do like iCal, but am thinking maybe it's time for a change.
I've been running all my client work through iCal, Address Book and Merlin (project management software) because they all easily integrate. I do have Filemaker Pro and use it to store client passwords, etc. I've been thinking of moving my address book and calendar to it, but I'm not fond of the learning curve nor the time it'll take to create the database layout I'll want.
Any suggestions on other calendar systems for the Mac? And remember, back up your calendar.