It's funny how sometimes things just jump up to make themselves obvious.
Yesterday I share my opinions on what to do when a commenter isn't hearing your correctly. The conversation that arose was interesting and stimulating about how our commenters can sometimes take us out of context or comment on things we didn't say. What I didn't consider was that it extends beyond the comment box as well.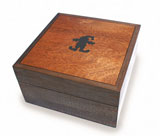 A short time ago I wrote a post that I titled, Are You Thinking Outside The Box. The point of the post was to open the awareness that we really can't live outside the box. Even if we believe we are, we're not really. Why? Because there is no such thing as living outside 'the box.' It's a made up idea; a buzz phrase to help us express that we're thinking differently than everyone else. And that's fine. But it's not true.

You see, we live in constructs based in a combination of our experiences and the collective consciousness. Sure, we can challenge our beliefs on something. We can even change our approach to how we do things. But the truth is we can never escape the box. It's not possible. The best we can do is expand the walls of the one we live in. In other words, build a bigger box.
And that was my point. Not that we should strive to live outside the box. But rather, we should think about how we can expand the one we have.
Controversial, I know. But it's true. Just think about it for a minute. You may be able to overcome your history, you ideas, and your beliefs. You may even think of new ways to express your gifts and knowledge to the world. But that doesn't mean you're living outside a box. It simply means you're expanding the walls of your box to live in a larger one that can contain more.
That's what my dear friend Alex Shalman didn't get when he asked can you handle yourself outside the box.
For me, this is really a moot point. Of course you can't handle yourself outside the box because there is no outside the box. It's just not possible to escape all the boundaries of living. If you could come up with a new idea – something revolutionary to the world – you'd still have all the baggage of your life. And if you could let go of all that baggage, you'd still have the collective consciousness for things like the effects of gravity and the solidity of walls. And if you could overcome that, you'd have to expand beyond the confines of the universe…of creation, really. Is this really possible?
It seems Alex chose to focus on my statements of what it feels like to live without boundaries – to live outside a box. That's fine, and it may be on purpose to create interesting conversation. But I was still misunderstood. See my point?
So I've said a lot on this topic. And it is rather deep. But I want to know what you think. And there is no wrong answer – just answers from within a box.