Some of the best advice I've ever heard has come in unassuming moments in casual conversation. Moments when I was relaxed and just open to something new.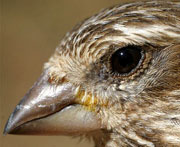 I can recall many moments like that with my grandfather. My grandfather loved birds. He used to sit for hours watching finches fly in and out of the five story bird house he built. The bird house was on the end of a pole about 30 feet above the ground. We'd lay back in lawn chairs and just watch the birds.
Every fall I'd help my grandfather take down the bird house for cleaning, repair and storage. It was huge and so high up that he'd developed a rather elaborate pulley system to bring it down.

One such day, when I was 8, we were lowering the bird house. I was holding one of the main pulley ropes. Under the weight of the bird hourse, my hands became strained and began to hurt. I told my grandfather, "My hands hurt, I can't hold it."
His response, "Don't focus on your hands hurting. What you focus is on expands. So if you think about the pain in your hands, it'll get bigger. Instead, focus on getting the bird house down."
You know he was right, of course. I stopped focusing on how much my hands hurt and the pain got less. I held the rope until the bird house was safely down.
I've never forgotten that phrase: what you focus on expands. Through the next three decades I found it very useful. But not only useful, I've found it to be truth. Every time I focus on things that are negative or painful, that thing increases. And when I focus on beauty or love that's what increases.
Char, I wasn't quite yet a teen. Okay, I was far from it. Yet this advice didn't only make an impression on me at the time, it continues to do so even today. And it continues to be true.
David Armano had a similar moment recently with his dad. While asking him "what's the secret?" His dad replied, "You gotta dig. You see, you have to leave a very loose ground in the roots and it has to be deeper." Amazing piece of wisdom…if you're listening. Check out the video. It's great hearing David's dad in his own voice.
Where have you experienced an unexpected wisdom?