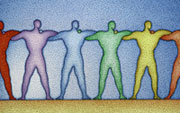 We all want more traffic to our site, right?
While there are numerous ways to drive more traffic to your site, one of the most effective and far-reachings ways is to link build. Link building is simply the way you get more links to your site. The more links you have, the more traffic you'll get, the better your SEO and the further your reach.
Many business hire firms or consultants to help them create link building (or link baiting) strategies. However, often the costs of hiring a consultant can be an impediment to the small business owner.
That's why when I found this list of interviews on Manish Pandey's blog, I had to share them with you. I haven't read/listened to them all yet, but those I have are top notch. And just look at the quality of people being interviewed: Lee Odden, Seth Godin, Andy Hagans, Jim Boykin, Loren Baker, Bob Gladstein, Debra Mastaler, Eric Ward…wow…it's like a who's-who of link strategy experts. And the interviewers, themselves, aren't too shabby.
Peter Da Vanjo interviews Fantomaster.
Patrick Gavin interviews Loren Baker.
Julia interviews Bob Gladstein.
Aaron Pratt interviews Stuntdubl.
Glen Allsopp interviews Lee Odden.
Aaron Pratt interviews Lee Odden.
So there's a ton of great information. But what's your own link strategy? And if you have a great resource for information about link building, please share it in the comment box.