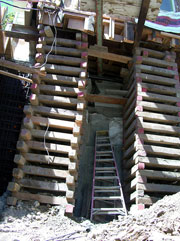 Many of the days I work with clients seem to have themes around them. Yesterday was no exception.
The clients I advised yesterday were dealing with the same issues. While each of their businesses had some success, none had the foundation stabilize and sustain their growth.
Having a solid foundation is as important to your business as it is to your home. Can you build a house without a foundation? Sure you can. You can erect the walls, place the roof and move in – and even live comfortably for a short time. But at some point, the bad weather you face could knock your house down. And at the very least sun, wind, rain and snow will erode the earth under your walls, making them ever weaker.
Your business is the same way in that it's only as strong as the foundation you build it on. Building a strong foundation to run your business on will give you the stability to grow long-term while sustaining shifts in the weather. A weak foundation, on the other hand, leaves you vulnerable in ways that can disrupt and even collapse your business.
Most small business owners seldom think about the foundation of their business. They focus on vision, branding, and target audience. They write their tag line, craft their marketing message and go out to find customers. And early on they're often successful finding people to buy what they have to sell.
Then, one of two things happen: Either sales continue to increase and they grow very fast, or sales decrease slowing their growth to a crawl. In either situation it's the strength of their foundation that will get them through.
So what is this foundation all about? With a house, a foundation is the concrete footers, steel rebar and cinder blocks which securely ties our house to the ground. A well fitted foundation makes our house much, much stronger than the house built directly on the earth.
Well, a business foundation is similar. But rather than using concrete and steel we use systems and procedures. For instance, how you manage invoicing and accounting is part of your foundation. As is how you manage your other daily, weekly and monthly business tasks.
Moreover, it's also how you structure you're business day – how you get things done. How your prioritize the limited time you have to run, market and do your business. And one of the biggest foundational pieces is how you do your business. How do you structure, for instance, client appointments and communication. How do you respond to phone calls and emails. And how do you manage your deliverables. All of this creates the foundation to your business.
So in essence, you can say that the foundation of your business is all the structure you build into your business that allows you to do your business effectively – and for a profit. So if your business isn't generating the revenue you'd like, or if it is but you can't keep up with the pace, you need to look at the foundation and see where it may be weak.
And if you find a weak foundation, no problem. Just get help identifying what's weak and strengthen it. No need to stop doing business or start over. Just start where you are and make the necessary adjustments. Or as Henry David Thoreau once wrote, "If you have built castles in the air, your work need not be lost; that is where they should be. Now put the foundations under them."
So what's working in your business structure? What's not? And what do you know needs to be sured up in your foundation?
(note: image from mmmmmbreed on Flickr)