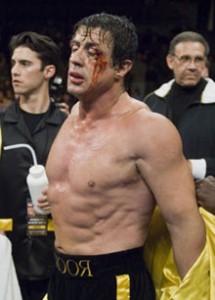 What does it take to be successful in business?
I'm guessing you can begin listing a dozen things right off the top of your head. I know I can – clear vision, business plan, marketing plan, metrics, proper positioning in a highly refined niche market, branding, marketing message, growth strategies, solid business structure, etc. The list just goes on and on.
But one thing is missing from my list – and maybe yours. Rocky Balboa knows what it is. It's what made him successful as a boxer – and yes, I know he's a fictional character. That one thing…perseverance – steadfastness in doing something despite difficulty or delay in achieving success.
In the movie Rocky Balboa (Rocky VI), he gives a speech to his son who's struggling with finding his own identity and success in the world. I won't bother setting up the scene because the movie isn't the point. But what Rocky says to his son is a pretty remarkable way to look at business and life…(UPDATE 4/28 – VIDEO LINK FIXED)
…I don't care how tough you are, It'll (life) will beat you to your knees and keep you there permanently if you let it. You, me, nobody is gonna hit as hard as life. But it ain't about how hard you hit, it's about how hard you can get hit and keep moving forward, how much you can take and keep moving forward. That's how winnin' is done.

Now if you know what you're worth, go out and get what you're worth. But you gotta be willing to take the hits and not point fingers saying you ain't where you want to be because him or her or anybody…
Okay, so it's a little overdramatisized, but the message is solid.
When you're building and growing a business there will be setbacks (hits) – plan on it. Know they're coming. Because success doesn't come in trying to avoid the hits. Success comes in being able to take the hits you can't avoid and continue on. "That's how winnin' is done."
What hits have you taken in your buiness and what have you done to overcome them? Or, if you're stuck a bit, what have you tried to do that hasn't kept you moving forward?
(note: image from MSN UK, Ask The Expert series)