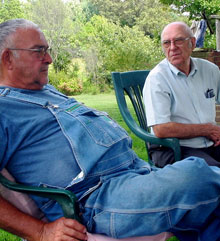 Business is about relationships. Relationships are about people. So it should be obvious that people do business with people, not businesses.
Yet I'm always surprised how many small business owners miss this. Somewhere in all their efforts to develop their business plan and marketing strategy they seem to forget that it's about the people.
Maybe it's using terms like target audience or niche market that somehow dehumanizes their thoughts, I'm unsure. Or perhaps it's the way we think about business in general as being a cold, cut-throat world where business owners are always trying to gain an upper hand on the competition. I know it's hard to see people when we're thinking like that.
Yet successful businesses have something in common – people; people buying their products and services. It's people who make the decision to buy. It's people who use what we sell. It's people who give us valuable feedback on how to do it better. And we shouldn't forget that it's people who are our best marketers.
All of this being true, why are more business owners not putting the people they sell too first? Why are they not spending time getting to know what the people they can serve want? And perhaps more importantly, why don't small business owners spend more time learning how to communicate with the people who make up their target market?
Is it fear? Or is it that we never learned solid people skills in the first place?
Or could it be that we enter into a mindset around business that tells us that we can't be ourselves; that being human makes us unprofessional?
One thing's for certainly, it's healthy relationships that lead to healthy business. So why don't more small businesses get it?
You can guess by all the questions that I'd love to hear what you have to say on this one. I have my own theories that I'll bring out in the conversation in the comment box.
(note: image from RyanDianna on Flickr)