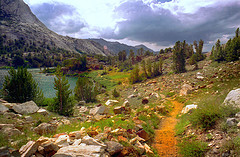 George Bernard Shaw once said:"The reasonable man adapts himself to the conditions that surround him… The unreasonable man adapts surrounding conditions to himself… All progress depends on the unreasonable man."

If Mr. Shaw is correct (and I think he is) then all progress – hence all success – happens when you adapt your surrounding conditions to meet your specific situation.
Think about what that means in your business.
So often, small business professionals get caught up in playing follow the leader. They find some system or program – some marketing philosophy or method for copy writing – and they follow blindly. They think that because this method has worked for others, that it'll be great for them.
What they don't see is that when we're always a follower we're always at the whims of the what's around us. And when the marketing plan doesn't work for them they either figure they've not learned enough or that they can't learn it at all. So they either spend more time as a follower or they quit.
But successful business – whether you're a coach, consultant, therapist, widget maker, etc – isn't found in following the leader or conforming to the masses. Successful businesses are built out of stepping out of line and finding your own path.
I liken building a successful small business to hiking, which I've done plenty of in my short life. Sure, you can follow the trail that's been cut and see some great scenery. It's easy, just walk and let the trail be your guide. Or you can decide to bushwhack; getting off trail and taking a risk. It's when I've gone off trail that I've discovered the most serene mountain lakes, amazing meadows full of blooming flowers, glaciers hanging off unimaginable cliffs and easy access to ridge lines that lead to breathless views – none of which I would have seen if I'd remained on the trail.
The same is true with your business. Be willing to cut your own path. At the very least, explore off trail. Don't just be a follower who adapts his or her self to the conditions that already exist. Rather find your independence, become your own leader and make the conditions that surround you work for you and your business.
How can this be pragmatic? Don't just settle for following someone else's marketing plan. Learn it, adapt it to your business – rather than your business to it – and leverage what you learn to generate more business. If you're learning copy writing, don't just learn the formula. Instead, learn the formula and then figure out how you can adapt it to your specific way of communicating and to your specific business model.
In other words, own it. Own what you learn by making it part of you and adapting it to how you work best. Learn it, adapt it, own it! And be as unreasonable as your business success allows.
So what can   you do today to be a little unreasonable; to go off trail or to adapt your surroundings to your business?
And if you're unsure, consider how you're allowing your surroundings to dictate how you do your business – and share it in the comment box.
Let's talk about it.
(note:  image from  mutbka on  Flickr,  

some rights reserved)