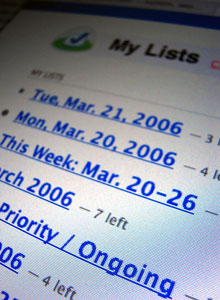 Do you make to-do lists?

Most methods for productivity include making various to-do lists of the things you want and need to get done. Whether it's David Allen, Stephen Covey or Jerry Seinfeld, everyone suggests making lists.
But do you ever find that your lists keep growing? Or do you get discouraged looking at a never-ending list of stuff that needs to get done? Or worse, do you find yourself not getting things done because you're overwhelmed by your to-do list? So, what happens when your to-do lists start doing you?
What happens when the to-do lists you make begin getting in the way of actually getting things done?