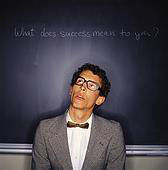 Finding the right domain name can make a difference between a successful website and one that's stuck in the pit of mediocrity. Okay, maybe it's not that dramatic, but there is some truth here.
The question is, how importat is the .com? Should you get closetowhatIwant.com or should you get exactlywhatIwant.net or even mybusinessname.biz?
Alex King has been facing this exactly question as he renames his business from King Design to Crowd Favorite. Of course, he couldn't wrestle crowdfavorite.com away from its current owner. So he came up with either using crowdfavorite.net or crowdfave.com.
Which would you choose? And why?
Alex polled his readers and got mixed feedback with crowdfavorite.net winning out by a small margin. Which was good because he had already decided to use crowdfavorite.net. But as he said it, "the response to crowdfave.com has gotten my attention. This decision is holding up a number of things, but I want to make sure I've thought it through completely."
Personally, I've always held the position that the .com was ultimately better. And unless you really couldn't find one you like, you should always choose a .com.
A couple of the comments Alex got made me think about this position, though. Brian Warren of Be Good Not Bad suggested:
…i'd rather have a .net domain and have it be the name of my company than have a .com and have it not.
Others had similar feedback. And there's some great advice "out there" on selecting a domain name:
But what do you think? Is a .com the only way to go? Or does the extention matter that much today?