If you use WordPress you likely know who Lorelle VanFossen is. If you don't know who she is yet, don't worry…you will soon.
Lorelle VanFossen, of course, writes Lorelle on WordPress (RSS) – one of the best resources for anything relating to WordPress. Need a plugin? Lorelle's likely written about it. Need to solve a problem? Lorelle may have covered it. Want the latest news? Lorelle's the one. She even sums it all up with her WordPress Wednesday column on Blog Hearld (RSS).
Lorelle's done it all. Including make every blogging mistake possible. At least that's what she said in her interview with Daniel Scocco from Daily Blog Tips (RSS).
Daniel: What is the biggest blogging mistake you did?

Lorelle: Oh, honey, I've done them all. I've been doing this so long, I've done all the big mistakes. When I read through blog posts listing their blogging mistakes, I think, "Yep, did that one in 2001. Oh, that one, I did it big in 1998. Been there, done that in 2004. Won't repeat that mistake of 1997."

Is there just one big mistake? Nope. There are only big lessons that come from every mistake along the blogging path. I tend to focus on the lessons learned and not the screw-ups.
Lessons…that's the perspective I love about Lorelle. Having spent some time with her at SOBCon07 back in May, it was easy to fall in love with her. She's real, she's honest and she doesn't judge. And just like me, she has her opinions…
Daniel: How long should a blogger wait to monetize the blog?

Lorelle: I do not think bloggers should monetize their blogs. I think that people who want to get into the business of blogging must make a business plan on how they will use blogging for their business or as their business, thus creating a plan for monetizing their blogs.

But general bloggers? Why should your hobby make money? If you want to work your way towards professional blogging, then blog for a year or two to get a feel for blogging and make your business plan. Then move towards being a professional blogger.
I couldn't agree more. Too many bloggers are watching what the business bloggers are doing and think about the "easy money" they could be making off their blogs. But it's not easy money. It's hard work.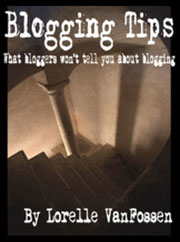 But so is blogging in general. Some days it's easy, some it's hard. Everyday it's effort. That's why many blogs aren't successful.
And that's what I love about Lorelle, she tells it like it is. She doesn't sugar coat it. She's honest about the ups and downs. That why I recommend that everyone read her new book, Blogging Tips, What Bloggers Won't Tell You About Blogging.
I've read it three times cover to cover and it's full of great advice. It's literally the first blogging book I've read that's really about blogging. Most blog books spend way too much time covering blog platforms or why to blog. Authors sometimes spend 1/2 to 3/4 of a book getting to the meat.
Blogging Tips is different in that Lorelle assumes you'll get that type of information elsewhere. Instead, she gets right into meat. I highly recommend her book (and I'm not getting an affiliate kickback to say that).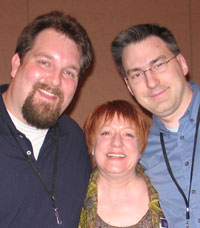 I also really enjoyed Adii's interview with Lorelle where they talk a bit more WordPress.
You know, it's also kind of challenging to find photos of Lorelle. I snagged one with her and David Dalka (he's on the right, I'm on the left and Lorelle is between us) when we were at SOBCon.