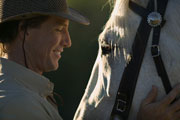 You know what you know, right? You know something that other's don't. Or at least your perspective on a topic is unique.
But does any of that matter of you can't communicate it?
From my post yesterday, How Not Knowing Something Makes You More Of An Expert, an interesting conversation emerged. I really enjoyed hearing your perspectives on whether an expert had to know everything or not.
What most of us agreed upon is that the term expert can apply to anyone who has a unique and valuable perspective on a topic. In other words, you don't have to be at the top of the ladder to be considered an expert. Rather, you can be seen as an expert simply by knowing more than your audience.
The second, and I think more important, point that was made had to do with how you get the title of 'expert' in the first place. We almost unanimously agreed that it's unfair to designate yourself as an expert in anything. That designation is reserved for other people to 'judge you' by.
The conversation on this topics was (still is – as it keeps going) great. But one comment stood out for me. It was from Michael Sass, who, unfortunately, didn't leave a URL for us to follow. Check this out…
Interesting topic that can trigger self-worth and self esteem issues. Here's my take…Clients work with us not because of what we know, but because of our ability to bridge the gap between what we know and what our clients know.We are experts and students of our given fields. We have gathered a great deal of information and experience, but remain open to learning. A master is an expert and a student at the same time. Standing on a mountain of information and experience, they remain open to the unknown, and are not fooled into believing they're finished learning.
When I read this, so many ideas popped off in my mind that I wasn't sure exactly how to respond. Yet, I managed this:
Yes! Yes! Yes! Now you're sounding a bit more like Confucius than Seth (Godin).

What you describe is very close to what I think as well. Personally, I run a business that's about knowing, learning and synthesizing a number of components – marketing, business development, strategic planning, copy writing, website development, usability, graphic design, social media – to help people grow their businesses through the internet. So not only do I need to know what I know, I also need to keep up with areas that are quickly and constantly changing. And because I coach and consult with my clients, if I can't effectively communicate what I know, then what I know is virtually useless.

Notice I didn't say teach. I said communicate. Teachers often just spew out information (think of your TA's in college) without much concern whether they're doing so in the most effective way for people to learn. Communication, on the other hand, is about being understood. And the coaching is about helping people apply their new understandings.

Does all this make me an expert? I don't care, really or personally. All I care about is helping my clients 'get it and use it.'
Again, I'm running through tons of thoughts right now. But the one that sticks out the most is about communicating. Are you really an expert if you can't communicate – clearly share – what you know?
I wonder. I know plenty of people who have a lot to offer. I know far less who can really share what they know in a way that benefits others. So, I ask you, can we consider someone with knowledge an expert if they're unable to communicate their knowledge in a way that helps others?