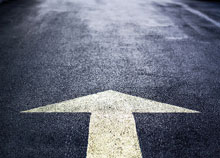 A number of the clients I work with blog. Either they want to get started and need to learn how or they're already blogging and want to make a greater impact with their blog.
But one thing is similar between almost every client…they somehow see their blog as their business. I'm not sure where this developed exactly, but I see this all over the web as well. Perhaps there's a misunderstanding between those who have made money blogging and those who want too.
But a blog is not a business. Blogging, in it's own right, is no more a business than your gasoline is a car. Sure, the car and gasoline are forever linked, even dependent on each other, but you're not going to step inside a can of gas and make it to the grocery store.
You can think of your blog in similar terms. Your blog is like gasoline in that it can make your business go. And done well, blogging can make your business grow. But you first need a clearly defined business model before you can attach a successful blog to it.
Even for the problogger, your blog is the method that allows you to make an income – in other words, it's marketing. But your business is about publishing, sell advertising or affiliate programs or being paid for reviews. The blog is simply the way you accomplish your business model.
I bring this up because I see so many people getting it backward. They think the blog is their business. They see the blog as their car. They expect to just get in and have the blog deliver them to their destination. But it doesn't work that way. You can blog successfully for years and never make any money. You can have tens of thousands of commenters and no clients.
The answer to making money with your blog isn't about text-link ads, having more ad space or finding the right affiliate programs. It's not even about converting clients or selling products. All this can certainly make you money, but your chance of success decreases greatly if you don't have a plan – a business model to follow.
Here's some simple points to set you in the right direction toward finding your business model:
Know thy self – What is it you have to offer. With a service or product this is obvious. For the problogger, it's still necessary as content will drive your success.
Know thy market – What is it the people who make up your market need? Solve a problem for them and they'll become a customer. One help…think of your market as a person.
Know thy vision – Think about where you want your business to go and what you'd like to accomplish with it. Write down your ideas. And be sure to set goals.
Know thy plan – Your business is like building construction – you have to have a plan. Your plan is the path� you'll follow toward accomplishing your goals.
Track thy success – Tracking is way underutilized by small business owners today. As a blogger, tracking traffic is great. But consider tracking conversions and revenue and tweak things to gain more success.
The bullet points above ideally answer four questions – who are you, what do you do, who do you do it for, and how do you do it? When the answers to these questions are clear, you have the foundation for your business. Now, go get your blog to do the marketing for your business.
And that's what a blog is – a marketing tool; a method for drawing attention to your business. But first you have to know what your business is about. You have to know who you serve and with what. And to be successful, you need to know how to meet the goals you set for business. Blogging can help with all this. But without a clear vision and solid plan, you'll likely end up like the tens of thousands of bloggers who are writing their fingers off and making pennies.
So if you're problogging, what's your business model? And if you're blogging to convert clients or customers, how are you using your blog to gain revenue?
More importantly, how well is it working? I'd love to chat about it…