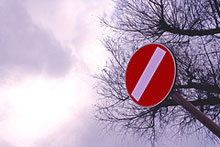 One thing you have to say about blogging is that it's a great way of generating traffic to your website. You write a blog post and promote it a bit. Your posts goes out to your feed subscribers and can gets picked up by social services. With a little effort, your blog can generate gobs more traffic for your website than your old, static website ever could.
As a blogger, you learn pretty quick how to look at your traffic stats. You see that your traffic goes up the days you write and down the days you don't. You look at your referring sites regularly to see where all the traffic is coming from and spend more time on the sites that are driving you the most traffic. And hitting the motherload of website traffic is getting to the front page of Digg, Reddit or del.icio.us.
But do your traffic stats mislead you? Is your goal just to get gobs and gobs of traffic to your website?
Maybe it is. If you're blogging for fun, to make a few bucks on the side or using your blog to sell ad space and affiliate products, it may just be about generating as much traffic as you can.
But if you own a business where you only get paid when you're clients are buying your service, having tons of traffic may completely mislead you.
Website traffic is great, don't get me wrong. And it's certainly an important part of your business strategy on the web. If it wasn't, I wouldn't be teaching a teleclass called 220 Ways to Drive Traffic to Your Website.
Yet you want to be careful about evaluating the health of your web marketing by only looking at how many visitors and page views your site is getting. You need to also compare your overall traffic stats with stats on solid lead generation, prospecting, conversion and sales.
You can do this pretty simply by tracking all contacts people make with you through your site in a specific period of time – say, a month. An RSS subscription and a comment is a contact. You could consider those soft leads. A newsletter signup is a firmer lead, because now your visitor has given you something of theirs – so track that. And obviously phone calls, emails and form submissions from your website are solid leads also, so track the number of those each month.
Then, you want to follow through with how each of those interactions develop. Do any of your commenters, for instance, contact you directly about your services? Do they then convert into paying clients? The same goes for your newsletter list, phone calls, email and form submissions – any of the ways that people can contact you directly. Do these generate sales?
If they do, it means your website traffic is serving your business. If not, then you need to make some adjustments as to who you're targeting in your blog posts. For instance, let's say you're a life coach and you're using your blog to promote your coaching services. Inevitably some of your readers will be other life coaches – that's actually a good thing. But a good portion of your readers need to be potential clients as well. If you're only getting other life coaches to read you blog, it's unlikely you're going to convert many clients. This means, you'd want to look at how you can adjust your content and your promotional efforts to reach your market, rather than your peers.
Generating huge amounts of traffic can be compared to creating a massive newsletter list. If you have a business, it doesn't really matter how many people you have on your list. What matters is how many of the people on your list will buy your services.
So, how are you using your blog to promote your business? Is it working? If so, why. And if no, what's one thing you can change to make it work better?
And maybe the most interesting question of all…are you currently, or have you in the past, been too focused on generating as much traffic as you can without really caring about how it affects your bottom line?
Let's talk about it.
And if you would like to find more ways to generate traffic – specifically traffic that increase your bottom line, take a look at my upcoming teleclass: 220 Ways to Drive Traffic to Your Website.
(note:  image from  c0ntr0 on  Flickr,  

some rights reserved)