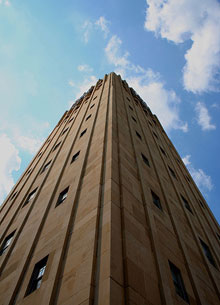 Yesterday I had an interesting, but short, conversation on Twitter where I said, "The key to a successful small business – find a highly specific, targeted niche and dominate it!" And I meant every word.
I work with business owners all the time who aren't sure about what they want, what they're doing or where they're going. Nothing wrong with that at all. After all, unless your expertise is in small business development or marketing, there's little reason to think you'd have a solid understanding of how to structure and grow a business.

Yet one thing that thatseems to set successful small business owners apart from those who aren't is their mindset.
Business is all about creating your space in the market place – in your niche market, that is – and working hard to inform people how what you sell can help them. The thing is, if you're wishy-washy you'll get wishy-washy responses. Just as if you're pointed, certain and clear in what you offer your clients, your clients will often be clear and pointed in what they want from you.
That's why being uncertain about how you're positioned within your niche market leads to uncertain, and often lackluster, results. Little focus means little results. And what other positioning in your niche market is there than being considered the best in your market space? Do you hear any of your clients say, "I'm working with Dawud because he's the 12th best business advisor in his field?" Of course not. People always want to feel they're working with the best. And usually they are – the best for them.
So I've never understood having a business unless your intent was to be the best in a market space. And that means that you set out from the beginning to dominate the market. It doesn't always mean you reach your goal, of course, of being the top-dog in a niche market. But that's not the point.
The point is your mindset. Do you go after the people who can serve in your niche market or do you sit back and let them come to you? Do you work hard to develop relationships that help establish your expertise and grow your business or do you sort of stay within your comfortable group of peers who will never be clients? And do you set out to be the best in your highly specific, targeted niche market or do you reserve yourself to having a business that doesn't create the lifestyle you want?
It's all in the mindset. Set out to be seen as the best in your niche market and you will be – at least by those who you bring into your business. And that means you have to dominate your niche. How else can you grow and maintain a successful business?
As Henry David Thoreau once wrote, "To make a deep mental path, we must think over and over the kind of thoughts we wish to dominate our lives." So what we believe is what we end up creating.
Love to hear your thoughts on how you're dominating your niche market? Or are you at all trying to dominate your niche? And if not, why not?
Let's talk about it.

(note:  image from  Danius! on  Flickr,   some rights reserved)