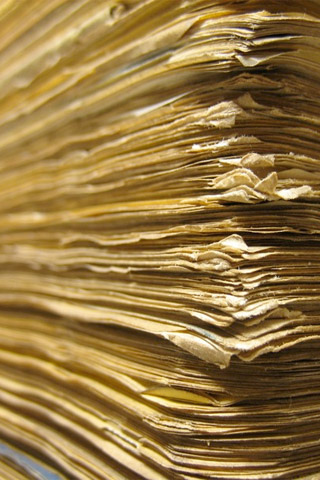 I'm constantly amazed at the amount of content that gets published to the web every single day.
If I just count myself, I probably published a total of 100 website pages from 1997 to the end of 2006. Since then, however, I've published more than 2000 articles/posts on the web between my 3 websites, articles I've submitted, guest blog posts and content I've written for the membership sites I'm a resident expert in.
That's remarkable. And if you consider that I wrote daily from the beginning of 2007 until some time late 2008, it's even more remarkable that I've produced that much content. Interesting thing is I'm not close to being as prolific as many of the bloggers out there.
But what's happening with all this content? How are people using it once it's published? Or two weeks later? Or a year later? Is there something more we can all do with our content then just publish it online and move on to the next post? Perhaps there's something more we can do with all this content – something that generates income.
What I suggest is package up some of this content and create informational products. Doesn't matter whether it's ebooks, e-courses, video tutorials or audio programs, informational products can generate massive revenues. For instance, I know a number of small business owners who are making mid-to-high five-figure incomes each month off of a handful of electronic products they've developed. That's every month. That's a lot of text-link ad click-throughs.
Please don't get me wrong, I don't think we should sell just any old content. Nor do I suggest that we should stop producing free content to put on our blogs. Not at all.
But think about it. You're taking the time to write useful content. What's more, people are enjoying and gaining benefit from yoru content. Why not package it for them as themed pieces and offer it at a reasonable price? Seems logical, doesn't it? Not only does it give you a chance to make a little cash off your writing, your ideas, your knowledge; but it also gives people who love your work a chance to support you. Everyone gains.
Yet there are many reasons you may want to consider creating an info product. Here's five:
You probably already have the content for an info product. If your blog content is niche focused, it's likely you already have content to create an info product from. All you'd need to do is compile your posts, organize them and do some edits and you've got an ebook that you can sell.
You're going to be writing content for your blog anyhow. Maybe you have some content for an info product, may not. But your future blog posts (podcasts and vcasts too) can be crafted to be the content that makes up the core of an info product.
People want what you know...and they want it the way you explain it. If you have people finding and reading your blog, and if you're number of feed subscribers continues to increase, this one should be obvious. They're all reading because they like and want what you're writing.
Your readers want to support you. Contrary to popular belief, people want to support you. Give them a way too. If you put up a 'donate' button, they may click it and make an offering – but how much. Instead, offer them more value by producing a product and they'll support you even more by not only buying but possibly spreading the word as well.
Info products can increase your readership. Create a product – whether free or for sale – and bloggers will likely write about it. If they have it, they may review it. If they enjoy your blog, they may promote your products. Either way, an info products gives people something of great substance to share with their readers.
There are other reasons, for certain. For instance, your info product will always pay you on time – something I know some ad services don't do. Or that your info product offers very long-term passive income potential regardless of pageviews. Not to mention, the info product is yours and once it's created you get all the revenue generated.
And if you're wondering how to get an info product developed, published and distributed, I happened to have written about that for you already.
So what's stopping you from using your blog to create an informational product?
(note:  image from  users_lib on  Flickr,  
some rights reserved)