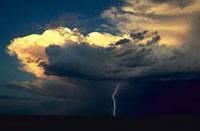 What inspires you?
For me, it's my kids, being anywhere in nature, a rolling thunderstorm across the plains, a fresh mountain snow above timberline in September, the sound of water falling from a cliff – okay, really anything involving nature.
And words. Words that express depth and meaning. Words that, together, make me think or feel or taste the layers of living.
A couple of weeks back I wrote 5 Inspirational Quotes For Conversational Blogging as a part of Darren Rowse's last writing project.
Of course, being me I couldn't stop with 5. Instead I had to write 8. And the truth is that there were many more I didn't include. So I thought I'd share five more with you. Five more quotes written by people who weren't even alive to see the personal computer, let alone the internet or a blog. Five more quotes that relate to conversational blogging…
It is in giving oneself that one receives – St. Francsis of Assisi
Everything worthwhile in the blogosphere begins with giving. The conversational blogger knows this so they spend their time giving in the best ways they can – by writing, commenting and linking.
It is the mark of an educated mind to be able to entertain a thought without accepting it. – Aristotle
The conversational blogger isn't concerned with being right or being persuaded. Instead, they adopt a sharing, open dialogue with their readers that may entice debate or further conversation, but rarely into argument about who's right or wrong.
The world is a book and those who do not travel read only one page. – St. Augustine
Same with the blogosphere. There are conversations in every corner of the blogosphere. The conversational blogger searches out the ones that interest them most and adds what they can to the conversation.
It doesn't matter how slowly you go so long as you do not stop – Confucius
Consistency is really the key to a conversational blogger's success. They're not in it for the race. Rather they meet the blogosphere at a pace that they can sustain.
Rather fail with honor than succeed by fraud – Sophocles
Staying true to themselves it what makes the conversational blogger succeed – even if their blog does not. It's more important to them to be honest and authentic then to just have a popular blog.
Okay, fine, one more…
The greatest mistake in life is to be in constant fear that you'll make one – Elbert Hubbard
As conversational bloggers, we mess up from time to time. And it just so happens that are mess ups happen in front of everyone. But hey, who's perfect anyhow? Not me. And I'm going to continue to make mistakes so that I can learn something I didn't know.
So there's six more inspirational quotes that can help the conversational blogger. Each of these speak to me in different ways. I'd love to hear how any of them speak to you.
Do you have a favorite quote of your own that helps guide your blogging? I'd love it if you would share it.