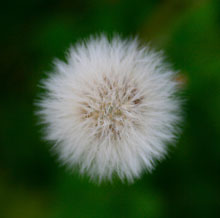 I have a friend who's been self-employed in one way or another for more than ten years. She's brilliant, caring and a really good communicator. Anyone who works with her immediately sees her huge range of gifts.
But this friend of mine – whose name I'm not going to mention – hasn't made much of her business. Well, I should say businesses.
You see over the past twelve years or so she's had, maybe, eight businesses. All have focused on providing some array of services based on her varied background. Each one has taken a somewhat unique approach to helping people overcome various problems in their lives. And each one could have probably been quite successful.
But here she sits, more than a decade later, struggling to make ends meat. She keeps wondering how she's not successful when she has all these great ideas of how to help people and make money doing it. Yet she never sticks long enough in one business concept to see it become successful for her.
Can you relate? Early on in my work, I could. I used to bounce from idea to idea thinking this was the next great one – the one that would build my empire and let me retire at thirty. But thirty came and went and I was still just meagerly successful in the work I did. And now, meeting the woman I would marry, I knew I'd have to be responsible for a family.
Then I decided to take a long look at where I'd been and why I wasn't successful. Like my friend, I felt I was pretty intelligent, honest, kind and had a good mind for business. I also knew how to run a successful business – how to organize and structure my time, create a clear marketing message, and reach people who I could help.
What I was missing was the commitment to a single business. I liked being able to change what I did on the spur of the moment. And like my friend, I'd be jazzed as I started with a new idea. This would last a few months and I'd get tons done toward my new direction. Then I'd enjoy a few months of the challenge of trying to make money off my new direction. And then, when the real work was needed, I'd get bored of my business and begin thinking of something new.
The problem, however, wasn't that I was bored with my business. It was more that I hadn't made the commitment to being successful. I could do all the preliminary work and begin making a living – that was easy and fun. But when it came to rolling up my sleeves and do the work it took to be successful, I'd turn to a new business idea. So, like my friend, I was always in the start-up mode and never engaged in the work it took to really be successful.
I'm so grateful that I figured this out. And I'm even more grateful that I chose a business and began building it with the idea of long-term success. What's interesting is that in my commitment to one business idea, I've been able to be just as creative as when I was bouncing around. But now I have a successful business and the revenue to show it. And I have plans for a huge expansion in the coming months (stay tuned).
Unfortunately, my friend hasn't understood that she needs to commit to a business idea yet. She continues to struggle financially as she scrambles month-to-month with the work she's doing. There are probably many reasons for where she is. Even though I know her story well, I don't want to be presumptuous.
And, just like everyone else, at some point she'll either have to find one business concept and commit to it or stop being self-employed. Of course, she could always marry into money.
What I've taken away from all these years of business experience is that you have to give your business a chance…a chance to succeed. Some will succeed more, some less, some not at all. But it takes time to find out which ideas you have will. So commit to the one you feel has the best chance and go after it. Make the commitment. Put in the work. Get really serious about seeing it through. And see where it takes you.
And if you get stuck, ask yourself what's one thing inside me and one thing outside me that's holding my business back from being successful?
Do these stories sound familiar to you?
Are you watching a friend go through the same experience?
So, then, what is that one thing for you – for them? And what's your strategy to overcome it?
Let's talk about it…
(note: image from PhotoLab XL on Flickr)