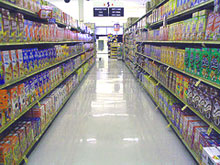 Is choice a good thing?
Walk through any supermarket here in the U.S and you'll find tons of choices. Want a simple can of soup, you have to wade through 15 different brands of chicken noodle. Or toothpaste, or cereal, or ice cream. Heck, we even have to make a choice between ketchup brands.
Now choice may be good. I know I appreciate having a choice of certain things I need, use or enjoy. And I know I'd be upset if someone took away Breyer's ice cream and made me buy from only one brand.
Yet, according to Barry Schwartz, choice is a paradox. While it's great to have options, he's observed that options often lead to bad decisions, dissatisfaction in what's been chosen or a paralysis to taking action. As Barry observes:
"…maximizers want the best. The problem that needs to be solved is what's the best jeans, the best restaurant, the best place to go on vacation, the best marital partner – everything. Yet that requires a search of all possibilities which is…impossible."

"satisficers aren't looking for the best, they're looking for good enough and good enough can be very good, it doesn't mean people have no standards. But it means they don't feel the need to do an exhaustive search. They just keep looking until they find one thing that meets their criteria and then they choose it."
Consider that's been said here: that while choice may be a good thing, it's not always the best thing. It's being suggested that people are tired of so many choices and that it can even paralyze them from making decisions.
So think about it from the point of marketing your specific products and services to your specific target audience. When they visit your website, what do they see? What choices do they have to make? Are there too many? Could it be that in an effort to show people everything we do that we paralyze them from taking action on something they need?
Further, how could you offer your prospects fewer choices and still grow your business?
What are you thoughts? Let's talk about it.
And if you have a story about being overwhelmed by choice, please toss it in the coversation.
(note: image from ::: Billie / PartsnPieces ::: on Flickr, some rights reserved)