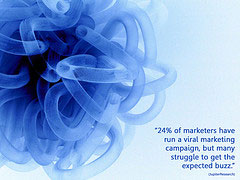 Is it really possible to create a viral marketing effect?
Sure, it's possible to create a viral marketing strategy. And it's certainly possible to know what viral marketing is and, theoretically, how to use it.
But can you just simply create a viral response in some formulated or calculated way? Or is viral marketing something that happens as a result of a little solid word-of-mouth marketing and a little luck?
Well, according to Ze Frank, we don't just go get ourselves a viral marketing experience. Rather it's something that sort of organically happens based on, first, word-of-mouth marketing and then, second, by way of having chosen the right thing at the right time with the right audience. In other words, viral is not something we can just go get.
And if anyone would know, it would be Ze Frank. He distributed video that went massively viral – making him an overnight star on the web. Subsequently, he went on to create 'The Show' where he used video to experiment with all types of ways to get a message out over the web.
Here, my friend and word-of-mouth marketing guru Andy Sernovitz interviews Ze Frank at a conference a couple of years ago. In this short, 3 minute video, you can get a glimpse into the ideas of someone who has been fortunate enough to have had a true viral marketing effect – over and over again. And if you want more, Ze Frank's talk at TED, What's so funny about the web, a few years ago is almost legendary.
from the video: Ze Frank: "…I would say viral is not (even) a tool. Viral just defines a particular way that traffic builds. And I think that if you do have something that goes viral it's really great to understand that that's happening and respond to it in a very, very particular way. But I really think looking at the growth as it happens is an important thing. "

Andy: "…so viral's an adjective that describes what happens. It's not a noun that you want to get you some of."

Ze Frank: "Yeah, I want me a viral."
I keep wondering if viral isn't something that we see and measure while it's happening and then evaluate and learn from when it's passed rather than planning for and making happen. If so, would that make it more a result and less a strategy?
from the caption in the photo above:

24% of marketers have run a viral marketing campaign, but many struggle to get the expected buzz.
So what do you think? Is it possible to set out specifically to create a viral marketing effect or is it something that happens from luck?
And if you've ever had a viral push, how did it begin, how did it build and what was the result. More importantly, did it go the way you planned it?
Let's talk about it.
(note:  image from  Will Lion on  Flickr,  

some rights reserved)