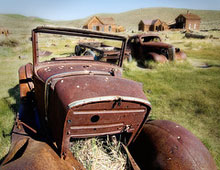 If you're paying attention to the media you know that we're are headlong into some hard economic times. Banks are failing, investment firms are in financial trouble and the housing markets across the nation are suffering.
Things are so bad here in Michigan, the state with the worst economy in the nation, that General Motors is talking about buying Chrysler – the Big Three become the Big Two.
So are these such terrible time economically? For some, yes. For others, and I'm not talking about the extremely wealthy, no. But that's not how it's being talked about. If you just pay attention to all the Henny Pennys writing for newspapers, magazine and the web and listen to their banter on TV and radio, our economic sky is falling.
Now I'm not going to say that the U.S. economy is all good and well. Truthfully, it hasn't been for at least two, maybe three or four, decades. At least since the early 70's we've been loaning out our future and falsely inflating our economy. Just look at how housing prices and the cost of goods has risen since 1980. All this goes to say that we are, collectively, in an economic crisis here in the U.S.
But does that mean you are facing an economic crisis? Is your business suffering in the same way that Lehman Brothers or Washington Mutual Bank have? I don't think so. These institutions are part of the reason the economy is where it is. You, on the other hand, are the reason there's some soundness in the economy.
You see, small businesses are the backbone of the U.S. economy now. Can we compete with Walmart, Ford or Pepsi – no. But we don't need to either.
I have a number of close friends that work for large corporations. Most of them are scared they'll loose their job because of the economic conditions. But the other side of the coin is that I have a large number friends who are self-employed or own small businesses who are doing quite well – and plan to continue that way.
The difference? When you work for a large corporation you're at the whim of Board and Shareholder decisions. These companies need to make huge sums of money to meet their massive expenses – including your salary and benefits. Ultimately, you have almost no control over any part of that how the company chooses to use it's resources.
It's in economic times like these that the small business owner and those who are self-employed have an advantage. The first advantage is that your revenue needs and the size of your expenses are much, much smaller than large corporations. Second, and perhaps most importantly, you have the flexibility to change strategies to fit the economic times. And third, you have direct control over the decisions and direction of your company.
Being self-employed or running a small business gives you advantages just not possible for larger corporations. Hence, if you're smart, you can actually grow your business in times like these. Here's a few suggestions on how:
Redefine and refine your niche market
Even in great economic times, refining your niche can be the key to a lackluster business and an explosive one. Get clear on what problems you really solve for people with your products and services and make sure you're offering them to the people who KNOW they want them.
Position yourself correctly
Positioning is simple – what does your market believe you do. You can have the best products and services in the world and have a niche all to yourself. But if you can't clearly communicate to that niche what you can actually do for them, in ways they understand and want, then you'll likely find yourself struggling.
Spend less money and more time on marketing
If you need to cut back on expenses, consider reducing your ad dollars. But only do this if you have a plan to replace what you're spending in dollars with what you'll be spending in time. For instance, word-of-mouth marketing is far more powerful than any ad, and can cost very little. Start with your current and past customers.
Look for opportunities
There are opportunities for business all around you. By opening your mind – along with your eyes and ears – to new possibilities, you can reach into new markets or segments of your niche in ways that can make your more successful. Remember, being small, you can often turn on a dime.
Ask for referrals
I mentioned above that word-of-mouth marketing is one of the most powerful forms of marketing you'll ever use. So massage it along a bit by asking your most satisfied customer to refer you other people they know you can help. A good start is to 'coach' them a bit in how to share their story of working with you to the friends and colleagues they feel could benefit from working with you.
Give something away for free
I don't mean give away your services, I mean create something of value – a report, a workbook, an audio series, etc – and pass it around. It's a great way to find yourself in front of new people who your materials can help. And if you knock their socks off with what's giving for free you'll have them thinking, "If (s)he gives that much for free, what will I get when I'm paying them?"
Get some help
Sometimes the best money you'll ever spend is contracting with someone who can help you make your business more solvent in times like these. Often a fresh perspective from someone who can help guide your ship can make all the difference between success and closing.
These are but a few ideas for growing your small business in tough economic times. Just remember, there are other folks out there that are doing just fine too. Some of them are looking for your solution to their problem. They just don't know it yet. Help them learn it.
But please, don't get lost in the media storm of fear. What they're mostly talking about is corporations. Sure, it trickles down to all of us at some point. Yet it's possible to come out ahead when times get tough. The biggest thing you need to do is tighten up the reigns a bit and focus on even greater clarity. And if you're like most don't expect to do it alone. Get help.
So tell me, how is the economy affecting your business? Is it hurting or helping – and why do you think it's the case? More importantly, what do are you doing about it?
Let's talk…
(note:  image from  brentbat on  Flickr,  

some rights reserved)