If you've found my blog you likely know that I'm a huge proponent of removing nofollow from comments.
What's this mean? Basically, it means by removing the nofollow attribute in comment links, Google and other search bots will follow links placed in comments – giving all commenters link love.
For me, removing nofollow was a no-brainer. I want to give link love to anyone and everyone for commenting on my site. I mean, why not? You take time out of your life to join the conversation around something I've written – it's only right to want to give something back to you.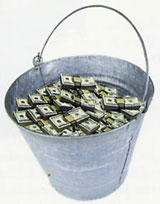 John Chow apparently sees removing nofollow differently. It appears he's not about giving back to his readers and commenters. Actually, it's quite the opposite. He's decided to charge a fee – $10 per month – to have nofollow removed from someone's comments.
Now I've never been impressed with John's money making decisions. But this one is way over the top, if you ask me. And certainly one that I cannot, in any way, condone.
While I don't want to get into a battle with anyone on this point, I do want people to know about this tactic – especially new bloggers who could make the mistake of both trying what he's trying and paying him for it. Because for me it goes against everything the blogosphere is about. That doesn't mean it's wrong for others. It's just wrong for me.
I see the blogosphere as a place of open sharing and giving. I see a world where people like Darren Rowse and Brian Clark give as freely as they can and yet still make a good living. Read Copyblogger. Go back in Brian's archives. Everything you could ever want to know about writing great copy is there – free of charge. And the same with Darren. Problogger is the most amazing resource for growing your blog.
Yet, they both monetize. They both have affiliate links. They both make money off their blogs. What they don't do is sell themselves out for a buck. And that's why I appreciate everything they put out and will continue to be a fan for a long time to come.
Now, I don't personally know John Chow, nor Darren or Brian for that matter. So I can't say without doubt that I know John's motivations. But it doesn't look good. And I just wonder that if he's willing to take this rather low tact, what else questionable would he/is he doing to make all that money he writes about.
I'm not angry or upset with John. I am disappointed in him, though. I'm disappointed that he seems to stop at nothing to squeeze every little dollar out of his blog. It's his decision, his conscience and ultimately between he and his readers.
I can tell you that I WILL NOT be billing any of you for removing nofollow from your comments. IT'S ALREADY DONE. SO ENJOY THE LINK LOVE.

So what are your thoughts? Should you do everything you can to make money with your blog? Or is there a line that you don't want to cross?