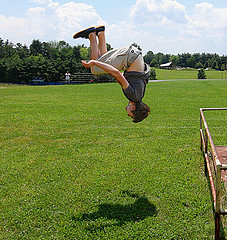 I think most of you who are reading my blog have heard of WordPress. Many know it as blogware (blog software) and some – especially my clients – know it as a full content management solution (meaning you can easily edit your content using it).
But I know there are some people who read my blog regularly who don't have any experience with WordPress. Perhaps they've heard of it and have no idea what it is. Maybe they've even used it but haven't really understood how powerful it can. And yet I know there are others who haven't heard of WordPress at all.
So I'm going to share a few short screencasts I've made over the past year to introduce some of the most powerful user features in WordPress and show you why you want to consider using it for your next website.
Now, just so we're clear, this set of screencasts are meant for website owners who are running a business and who want and need to manage their websites themselves without having to deal with code. So these videos are made not for the coder or web developer – there's plenty of that stuff. These videos are for coaches, healers and anyone else who has a service-based business so you can see what's possible with a WordPress website.
So, let's get started…
Using WordPress to Create, Update and Edit Your Website's Content
Being able to publish and edit your own content whenever you want is a vital part of having a successful business website. And with WordPress you can do so without having to know a lick of code or hire a webmaster to do it for you. This saves you huge amounts of money and time. And streamlines you opportunities to make money. Watch how easy it is to edit your own content in WordPress:
Easily Manage and Update Your Navigation Bar
There were ways with systems before WordPress to edit your own content. But there's almost never been an easy way to put control over your website's navigation bar before WordPress 3.0. Take a look at how easy you can add, move and rename your nav buttons:
Change Your Design Whenever You Want
You can see from the two videos above that WordPress gives you incredible power over your website without having to know a lick of code. Well, it gets even better. The last feature I want to show you is how easy it is to to change your design using WordPress.
Now you still may want or need to hire someone (I can recommend somebody) to set WordPress up the way you want it with all the features and create for you a custom visual design that brands your business. But once your site is in WordPress, changing designs is as easy a the click of button. Watch…
As I said, you may still want to work with a web designer to get your site initially setup in WordPress or build our customized website design. You may even want to hire someone to create your next design or modify one of the thousands of existing WordPress themes for you. The bottom line of why this is so, as I say, 'game changing' is because you're using WordPress the cost and development time of a redesign is cut greatly. I can't give you specifics as price will depend on your needs and your developers skills and offer (for instance, I merge website design with business coaching so my clients learn how to use their websites to meet their business goals).
As you can see, WordPress opens the web to you in ways that just weren't possible just a couple years ago – at least for those who don't know how to code websites. That's why I say that every website needs to be in a system like WordPress.
So if you're website isn't in WordPress or if you're about to have your first website built, let's have a short conversation about how to get you using WordPress. Feel free to contact me and we can discuss your specific needs.
What sort of questions does this bring up for you?
What website do you have that you'd like to move to WordPress?
note: WordPress is open source software licensed under GPL. It is open to the public to freely use and modify and it is never for sale – meaning no one can charge you a license fee for using WordPress. Setup, design, customization, etc – yes. But to charge you for WordPress is against the license.
note:  image from  Nahh on  Flickr,  

some rights reserved)