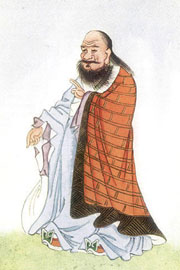 I was reading from Lao-tzu's Tao Te Ching last night when I ran across an interesting quote:
He who knows others is wise;
He who knows himself is enlightened.
The passage made me stop and contemplate my own life. How well do I know myself? I went down that path for a bit of time; looking at my aspects and considering what I might be blind about.
Naturally, I soon turned to business. I thought about how much of marketing is focused on the consumer or the client. I wondered what I might learn about my business if I applied Lao-tzu's words to marketing. So I rewrote the passage to say:
He who knows his customer is wise;
But he who knows his business is enlightened.
Then I started thinking about my clients, my colleagues, my friends, etc. How many of them really know what they do? I don't mean can they explain their business in some marketing lingo that drives sales. I'm talking about do they understand what they REALLY do for their clients? What impact do they make?
For instance, I'm a web developer, a marketing coach, a business advisor and a strategist. I help my clients understand how to use the internet to reach their business goals. Pretty simple.
But if I think about the client's I've worked with over the past year, it's evident that I have a much broader and deeper impact on my client's life than I first think about. While I certainly help them build their website, clarify their marketing message or build a campaign, I also help them create space in their lives for their business. As well, I help them overcome their fears and uncertainties about using the web, and I educate them in how to measure their success. What's more, I teach them anything they really need or want to know about using the web to grow their business.
But it doesn't stop there. Most of my clients and I also develop a strong bond; a working relationship that seems to increase their trust in themselves. They know, for instance, they're not doing this alone in their process. I also freely share my idea, concepts, vision and excitement about their business – something that often motivates them to get the next bit of work done.
When I think about it, I do far more than just develop web-based businesses. I have an impact on my client's lives. And I need to remember that in my business. Perhaps even explore that more and understand how I can express more of what I offer my clients. And maybe, just maybe, I can find more of the light in my business.
So what about you? How well do you know what you do? How much do you understand the impact you have on your clients or customers? How enlightened are you in your business?