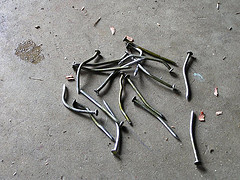 With small businesses one fact is true today, your business website should be a central hub for your business.
Your business website should effectively represent your brand while providing ways for your leads to easily engage you. All roads in your business should lead back to your website, making it the pivot point for all your marketing. And you want to treat your website that way.
Furthermore, having a website opens the possibility to not just market to your leads, but to create a powerful touch point for engaging your audience in conversation and building relationships with your prospects and clients.
So if you want a successful business, and I believe you do, it only make sense to create a website that fuels the growth of your business.
Yet, as a small business owner, it can be easy – or tempting – to get in the way of your own marketing. You may take shortcuts with your business website. These shortcuts can become mistakes that undermine your business goals and turn your website from golden egg to fried omelet.
The sad thing is that you may not know your making these mistakes and undermining your business website.
So let's look at 8 common, and often critical, mistakes I see everyday with small business websites:
Mistake #1: No Clear Objectives for Your Business Website
The very first thing you should do when you plan your business website is define its purpose. What objectives do you want your website to achieve? In other words, what do you want our visitors to see, to read and to do. To do is the most important set of objectives so you want your website objectives to be action oriented. Do you want them to sign up on your list, get your RSS feed, buy a product or take a survey? Any of these can be objectives. Just make sure your objectives are clearly defined.
One more thing on objectives: if you have more than one objective for your website, you want to put them in order of importance. Then, make sure you primary objective is the most visible and easy to find on your site. Your secondary objective should take its appropriate place behind the primary…and so on.
Mistake #2: No Strategies For Reaching Your Business Objectives
Once you know the objectives of your website you want to create strategies around how you're going to accomplish these objectives. Strategy gets into how you're going to do what you're setting out to do with our business website. The more thought out and researched your strategies, the more likely your marketing and your website, overall, will be successful. From a strategy comes our plan of action, which gets us into tactics.
Mistake #3: No Tactics to Achieve Your Business Objectives
If you're like most people, you're pretty good at thinking about what you want to do with your business website. Often, where the trouble begins is when you have go from thought to action. That's where tactics come in.
Tactics are the actionable steps you'll be taking to achieve your business objectives. Your tactics are, flat out, a task list of what you're going to do and when you're going to do it. Think of your tactics as being the implementation of your strategy. It's how you're going to do what you think.
Mistake #4: No Targeted Metrics to Measure Your Progress
One great thing about the internet is that if it happens on your business website, you can measure it. Which means, you can find out amazing detail about how your visitors as seeing, reading and using your website. So the only question is are you recording that information?
What's sad is that I see so many small business owners who aren't even looking at their most basic website statistics. Yet, it's so much easier to know how effectively your building your list, for instance, if you know how much traffic you're getting. And from knowing that, you can make a plan for increasing you list signups.
There's no way else to put it, it's a mistake if you're not recording your website statistics and looking at them with some regularity (not daily). And it's a further mistake if you don't take the time to learn how to interpret your website statistics because they will tell you what's working and what's not working on your website.
Yet, it's important to go one step beyond just your basic traffic stats. You want to also consider how you're going to measure the effectiveness of your strategy and tactics so you can see how well you're achieving your objectives. In other words, you want a solid system of metrics – even a simple one – so you can evaluate your marketing and make it work better.
Mistake #5: No Integrated Marketing Plan
So often I see small business owners thinking of their website as one part of their marketing and their offline marketing as being another part. Don't make this mistake. Integrate the two. Communicate your offline promotions online. And even more effective, use your offline marketing to drive people to your business website. This works great when you can make an offer on your website that your offline audience wants. As I said above, your business website should be the hub of you marketing – not just online, but all your marketing.
Mistake #6: No Focus on the Value of Your Offer
I'm asked to evaluate a lot of websites for whether they're business ready. One of the most common mistakes I see is small business owners not focusing on or effectively communicating the value of their service. Too often, the focus is on either the cost of service or the 'unique approach we use that makes us different than everyone else.' Yet, this just confuses the prospect because either they don't care about the approach or they have to consider what they're getting for the cost. In other words, they have to figure out the value themselves.
Don't make your prospects figure out for themselves the value of the services you provide. Tell them about it. Show them what they get, what they can expect and how you will help them solve their problems. And offer testimonials of people who you've helped so that they can see the social proof in your offer.
Mistake #7: No Action Plan for Your Visitors
We said earlier that your website should have clearly defined objectives. Once you've identified what your objectives are, it's likely they require an action by your visitors for you to achieve. So tell them to take the action. Make it exceptionally clear that if they've gotten this far in your website, that 'this is the action step you want to take next.' Could be a list signup, a free report, a set of articles – doesn't matter (as long as it's toward your business objectives). Just be sure you're hyper-clear about what action steps you want your visitors to take.
Mistake #8: No Balance Between Design & Marketing Message
Having been a website designer for well over a decade, I've dealt with this one a lot. Often, business owners become too concerned over the visual look of their website and it gets out of balance with the purpose of their site – which is a marketing tool to promote and sell their products and services.
That's not to say that a website shouldn't be visually appealing – it should. For instance, I've had dozens of people contact me just to let me know how much they like the design of my site. Yet your website design shouldn't get in the way of your marketing message and business objectives. It should provide a professional, attractive frame for your all-important content.
Ideally, your design will be something people see initially and get a good impression of you from. Then, as they begin to read your copy, it should fade into the background. So think of your website design not as a paramount piece of the marketing puzzle but as a frame for your marketing message. And remember, that you want to consider your business objectives in any website design.
So these are the 8 most critical mistake I see everyday in working with clients on growing their business and on developing their web presence. There are more, of course. But I've found these to be the biggest and most important 8 to correct.
Does your website make any of these mistakes? If so, which ones? And what will you do about it?
Let's talk about it.
(note: image from iampeas on Flickr,

some rights reserved)