You've heard the term social networking, right? But do you really understand what it's about?
I've found that while many have heard the term, most don't know what it really means. Yet, most of us are engaged in social networking dozens of times each day.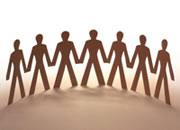 How?
Well, if you tell a friend about a service or product you like – you're social networking. If you share another blogger's post with your blog readers…you're social networking. Hand out a business card – you're social networking. Returning phone calls, responding to email, contacting your blog commenters, building relationships with other bloggers, even writing on forums – all of this – and more – fall under social networking.
Basically, social networking is a way that people of some similar interests connect. The beauty is that this happens when people you may not know find you (and your business) because of some connection they have with someone you both know.
Social networking is happening all the time. The real question, then, isn't whether you're engaged in social networking. Rather the question is are you taking full advantage of the social networking you're already doing?
One great way is to utilize social networking communities such as Linkedin, MyBlogLog and Facebook. Each can get you linked to friends and colleagues who link to people who link to people – creating your network.
Need a little more about the basics of social networking? Common Craft put together another great video describing social networking in plain English. Check it out below.
From the video transcript describing using social networking sites:
When you find someone, you click a button that says, "Add as Friend". Once you do this, you and that person have a connection on the website that others can see. They are a member of your network, and you are a member of theirs.

What's really cool, is that you can see who your friends know, and who your friends' friends know. You're no longer a stranger, so you can contact them more easily.

This solves a real world problem because your network has hidden opportunities. Social networking sites make these connections between people visible.

Like a map for a highway, they can show you the people network that can help you get to your next destination, whether it's a job, a new partner, or a great place to live. Your network is suddenly more useful.
How do you use social networks? And what results have you gotten from using them?
Thanks to Chris Brogan and Beth Kanter for helping me discover this video.