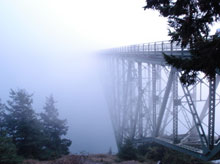 You know I love word of mouth marketing. I find it to be one of the purest, simplest and most rewarding ways of getting my business known.
But did you know that word of mouth marketing can be illegal?
According to Andy Sernovitz there's a new bill (pdf) being introduced in the U.K. which will make some marketing practices illegal. The bill is meant to stop false and misleading marketing practices. Of course, word of mouth marketing could easily fit into that category if marketers were deceptive about their campaigns.
So what makes word of mouth marketing illegal?
In Andy's post he lists a few examples where the U.S. Federal Trade Commission has made this clear. And from what I read in the U.K.'s new bill (pdf), it seems to agree.
Asking buzzers to recommend your product with disclosing that they are part of a campaign or are receiving an incentive.
Falsely representing your employees as consumers.
Asking buzzers to claim they like your product when they don't or have never tried it.
Now I, personally, don't know anyone who's doing these things purposely to promote their business through word of mouth. Yet to me it seems like there might be a gray area here. Gray in the sense of what we, as business owners feel is deceptive versus what consumers would feel is deceptive.
Please hear me clearly, I'm not talking about lying to yourself so you can scam the public. I'm talking about places where we might not realize we're bending the truth in order to gain an advantage. When we talk about blogging, one of the things that comes to mind where this could happen is with being paid for posts.
Think about it, if someone wants to pay you either to write a post on a topic or to review a product, couldn't that skew your judgement a bit? I'd like to think it wouldn't skew mine. Yet it's because I know it's possible that I post very few ads on my blog. And you've never seen a product review that I've been paid for. It's likely you won't – at least not on this site.
Do I think that I shouldn't be paid for our writing? Of course not. I just think it's important to keep the blogging crede in the forefront of our minds whenever we are paid for writing posts or reviews – be authentic, be transparent.
In Andy's post he lists a few points from the Word of Mouth Marketing Association's Ethics Codes that can help us stay honest without ourselves and our consumers:
Honesty of Relationship: You say who you're speaking for
Honesty of Opinion: You say what you believe
Honesty of Identity: You never obscure your identity
And if you have any questions about the ethics of a campaign you're either wanting to begin or are being pitched, use the WOMMA's 20 questions to identify any potential trouble spots.
So what are your thoughts? When do you feel word of mouth marketing crosses into the gray areas of deception?
Have you ever been on the receiving end of a deceptive campaign? What was that like?
(note: image from macmiester on Flickr)