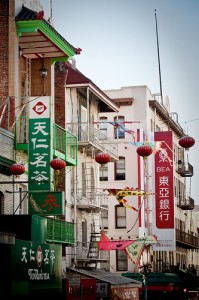 Want To Increase Sales? There's almost limitless methods for doing so. And all those methods boil down to one thing:
Be in front of your audience when they need you.
That's it. That's the key to increasing your sales. Think about it, when you're at a restaurant, do you care with the bathroom is? Not til you need it, right? Or an ATM. You likely pass dozens of them every day and don't notice them, right? But what happens when you're out of cash? Every ATM comes into focus. What's more, you might scurry to find one.
So many small business owners don't consider this when they market their business. They work hard on their vision and business plan. Then they focus on their offer and how best to communicate that offer to a target market. Ideally, they're wanting to position themselves as an expert in a select niche market.
But no one cares that you're an expert until they need an expert. In other words, no one cares that you can solve a set a problems until they are faced with those set of problems. Then, they go out and look for a solution.
As a business owner, you want to find the most effective ways to get your business, your expertise, your solutions in front of people when they need it.
I know what you thinking…how do I know when people need what I have to offer?
The simple answer is, well, you don't. But you can spend time identifying a clear niche in which to spend your marketing efforts (and budget). And you can use search engines, forums, social media (blogs, Flickr, YouTube, Twitter, Facebook, etc) and your website to make yourself more visible to people as a whole. The more people know what you do, the more potential for your work to passed on to someone who needs it.
For instance, you can use SEO and SEM to target specific key phrases that people may be searching for when they're looking to solve their problem. But be specific and highly targeted. If you train poodles, you likely aren't going to get much return for optimizing your site for dog trainers. But if you optimize your site for poodle trainers in New England, now you have a specfic niche you're targeting. And when people need their poodle trained, and live in New England, you'll likely get found.
Same is true with social media. Use your blog and profiles on YouTube, Facebook, LinkedIn and Twitter, among others, to establish your expertise. Then openly share with people who you are, what you do and who you do it for. If they don't need your services, they may know someone who does.
And there's other approaches as well – forums, blog commenting, article submission, etc. The list goes on. Just remember that you want to present your expertise at the time when people most need it. If you allow that to be your guiding light, you won't be marketing in the dark. And more people will buy – today, even.
Are you targeting your audience at the times they need you most? If so, how's that working for you? And if not, why not? Let's talk about it.
(note: image from Troy Holden on Flickr)